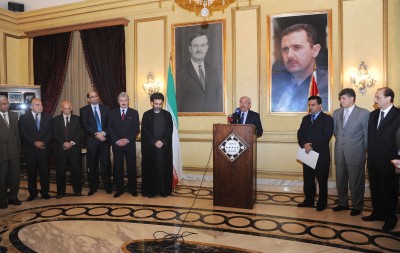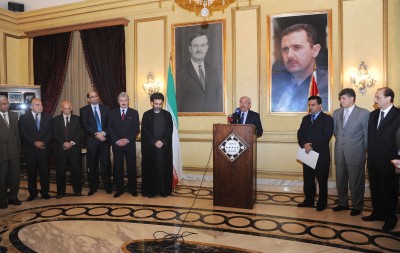 Assistant Foreign and Expatriates Minister Ahmad Arnous on Wednesday awarded the Syrian Order of Merit of the excellent degree to the Iranian Ambassador in Damascus Sayyed Ahmad Mousawi who has ended his mission as an Ambassador for Iran in Syria.
During the ceremony, Arnous hailed the Syrian-Iranian strong relations, referring to Mousawi's efforts to promote the relations up to best levels as to become an example for other countries and to meet the two peoples' aspirations to get rid of occupation.
"Syria and Iran believe in reforms stemming from the peoples' will, resistance… we believe in the reforms carried out by President Bashar al-Assad, but these reforms need some time… How could we expect any form of reform during a very short time," the Iranian Ambassador wondered.
Mousawi underlined that trade volume between the two friendly countries raised from $ 300 millions to $ 3 billions.