Iran
Iranian Army Commander: Heavily-Armed Terrorist Group Disbanded before Crossing Borders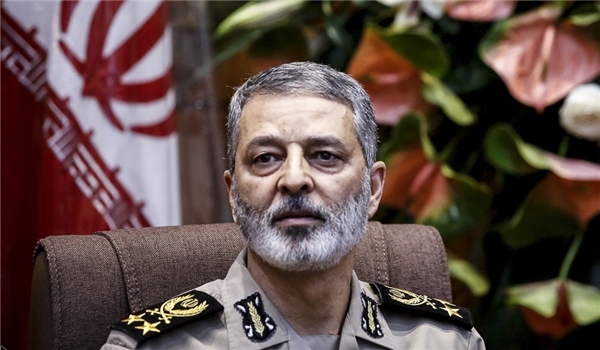 Commander of the Iranian Army Major General Seyed Abdolrahim Mousavi said that border guards have dismantled a terrorist group and seized a huge arms cargo before they could cross the border into the country.
"The Army has been entrusted with protection of a part of the country's borders in the West, East and Northeast and thanks God, the borders are under the no threat and the country faces no problem in this regard," General Mousavi said in a meeting in the Southern city of Shiraz on Tuesday.
He added that a terrorist group that intended to enter the country with a large number of weapons to stir chaos in Karaj city (near Tehran) was disbanded thanks to the vigilance of the border guards.
The Iranian police, border guards and the IRGC are actively engaged in security operations against anti-Iran terrorist groups.
Commander of the Islamic Revolution Guards Corps Ground Force Brigadier General Mohammad Pakpour announced late in September that the IRGC forces had engaged in over 50 clashes with the terrorists at the Iranian borders and killed tens of militants since late March.
"Over 50 cases of attack have happened in the past 6 months which have led to clashes and considerable tolls have been inflicted on the terrorists' operational teams at the Northwestern and Southeastern borders of Iran," General Pakpour told FNA.
He also added that several Takfiri and terrorist teams in the Western borders of Iran have been dismantled completely by the IRGC Ground Forces and tens of terrorists have been killed in the past three years.
General Pakpour underlined that security and tranquility prevails at the Iranian borders despite all moves made by the terrorist groups due to the intelligence superiority and preparedness of the IRGC Ground Force's units.