Iran
Iranian Army Repairing US Made Choppers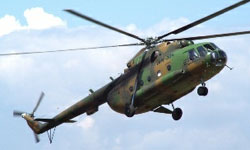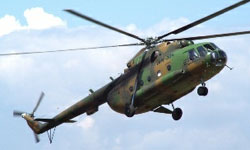 The technical unit of the Iranian Army's Airborne division repaired three US choppers and brought them back into operation, officials announced on Monday, stressing that the country will continue repairing and overhauling more US-made choppers in future.
Addressing a ceremony in the Southeastern province of Kerman to mark the repaired US choppers' joining the Iranian airborne fleet, Iranian Army Airborne Commander General Hoshang Yavari said that his forces plan to repair a number of downed choppers each year.
He said the Iranian Arm's Airborne Division was run and supervised by American military attaches prior to the revolution and all repair and maintenance jobs were carried out at their orders and under their supervision.
"When Americans were leaving Iran, they said that they would definitely return to the country because they imagined that Iran wouldn't be able to make use of these choppers," the General continued.
He said the technical unit of the Army airborne division in Kerman is now repairing two other downed US choppers, adding that the two will soon join the Army Airborne's operational unit in the near future.
Iran has in recent years taken a wide stride in aerospace and aviation industries. The country now has its own fighter jets known as Saeqeh (Thunderbolt) and Azarakhsh (Lightening).
Iran in December 2012 unveiled two home-made semi-heavy and mid-size choppers in an international exhibition on Kish island in the Persian Gulf.
In January, Iran put into operation a new domestically-made advanced combat chopper.
Two Toufan II (Hurricane 2) combat choppers, produced by the Aviation Industries Organization of the Iranian Defense Ministry, were delivered to the Iranian Army and the Islamic Revolution Guards Corps (IRGC) in a ceremony attended by the Defense Minister Brigadier General Ahmad Vahidi.
Addressing the ceremony, Vahidi said that Toufan II which has been designed and manufactured by Iranian experts is "a new generation of combat choppers and enjoys advanced and updated technology".
The minister further stated that Toufan II also enjoys a series of home-made technologies, including electronic, optic, laser and weapons.
Vahidi said high-precision targeting capability has gifted the chopper a high offensive power.