Iran
Middle East
Iranian Commander Hails Successful Naval Mission in Atlantic
Iranian Army's Navy Commander Rear Admiral Shahram Irani announced the completion of the mission of the 75th Naval Fleet.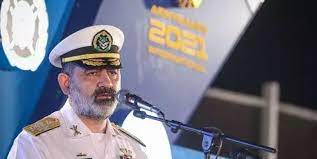 Speaking in a press conference on Tuesday morning, Rear Irani said the successful Naval Fleet mission shows Iran's authority and capabilities.
"The largest historical military event in the sea field was completed by Iran Navy with the deploying a fleet consisting of the locally manufactured 'Sahand' destroyer and the Makran support ship."
"The fleet was able to complete its mission by crossing the three Indian oceans, the South Atlantic and the North Atlantic, and traveling about 45,000 kilometers across the oceans and returning to Iran," he added, as quoted by Iranian media.
Stating that this mission is a sign of self-confidence and authority in the global arena, Irani said, that 'Sahand' destroyer shows self-confidence, maintenance, construction, modernization and benefiting from the most up-to-date scientific capabilities.
He hailed the mission as important and strategic, noting that it shows Iran's capability and authority.
"Iran has always been a country that invited all the regional countries to peace and friendship."