China
Iranian Defense minister tours China military, space centers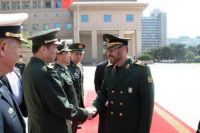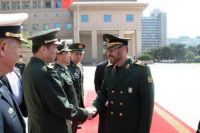 Visiting Iran's Defense Minister Hossein Dehqan visited Chinas Tiangong Space Station and several Chinese military centers, here on Tuesday.
Dehqan paid a visit to the 24th Fighter Division unit of the Chinese People's Liberation Army Air Force as well as the 196th Division of Chinese Ground Force.
Chinese Defense Minister Chang Wanquan in a meeting with Dehqan on Monday referred to Iran as his country's strategic partner, saying the two countries will witness close defense cooperation in future.
According to IRNA, General Dehqan for his part, called for closer ties between the two countries, specifically in the military, defense, and security spheres.
A high-ranking Iranian defense delegation, headed by Dehqan, arrived in Beijing on Sunday at the invitation of the Chinese defense minister.
Dehqan is scheduled to meet vice-chairman of Chinas Central Military Commission Fan Changlong and the country's State Councilor yang jiechi on Wednesday.