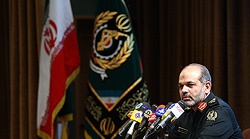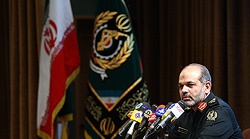 Iranian Defense Minister Brigadier General Ahmad Vahidi warned enemies against an invasion of Iran, saying that those beating on the drum of war with Tehran will have to sustain heavy casualties in case they make a military move against the country.
Are you ready to fight for years and take tens of thousands or even hundreds of thousands of killed soldiers back home?" Vahidi asked, and added, "We are ready."
Vahidi made the remarks in a ceremony held here in Tehran to mark the national 'Day of Defense Industries'.
He further pointed to Iran's capabilities and potentials, and said, "Now we are standing against the regime of the global arrogance more powerfully than ever."
Referring to Iran's progresses in defense industries and production of different weapons, he announced that Iran is now capable of not just meeting its needs to weapons and armaments but also exporting its military productions to 50 countries of the world.
The remarks by the Iranian defense minister came after Chairman of the Joint Chiefs of Staff Mike Mullen said earlier this month the United States has a plan in place to attack Iran, if it is necessary.
"Military actions have been on the table and remain on the table," Mullen, the highest-ranking US military officer, told NBC's "Meet the Press".
"I hope we don't get to that, but it's an important option, and it's one that's well understood," he said.
But Mullen said attacking Iran would not be the best option Washington seeks "not just for the consequences of the action itself, but the things that could result after the fact."
Supreme Leader of the Islamic Ummah and Opressed People Imam Seyed Ali Khamenei in response warned the US against the grave consequences of any military aggression against Iran, stressing that Tehran's response to such an attack will not be limited to Washington's interests in the region.
"The Americans' resorting to military attack is a remote possibility, but if so, Iranians' counter-attack will not be merely regional, but will cover a vaster scene," Imam Ali Khamenei said here in Tehran on Wednesday.
The US military leaders have also warned that strikes could be catastrophic to US national security interests and could engulf the Middle-East in a "calamitous" regional war.
A recent study by the Institute for Science and International Security (ISIS), a prestigious American think tank, has found that a military strike on Iran's nuclear facilities "is unlikely" to delay the country's program.
Also, the Washington Institute for the Near East Policy also said in a Sep. 11, 2008 report that if Washington takes military action against the Islamic Republic, the scale of Iran's response would likely be proportional to the scale of the damage inflicted on Iranian assets.