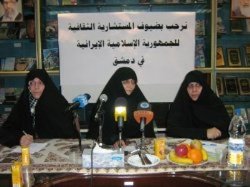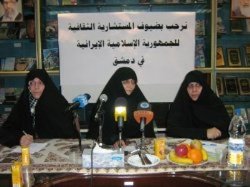 Iranian Majlis (Parliament) female deputies Laleh Eftekhari and Fatemah Rahbar conferred with a number of Syrian and Palestinian women here on Tuesday.
In the meeting, Eftekhari said that a personality like Zeynab(as), daughter of Imam Ali and sister of Imam Hussein (as), is a model for Muslim women, especially now when the women role in the development of Islamic countries have been more apparent.
She said that women should be aware of world arrogance plots and resist against them.
Fatemah Rahbar, another parlemantarian, said that woman have a especial position in Islam and unfortunately western and Zionist media have turned woman into a merchandize and have ruined the borders between men and women.
She added that Muslim women should create a united establishment for proximity among Muslim faiths against western moves.
The Iranian parliamentary delegation is in Damascus to attend Inter-Parliamentary Union meeting.
Inter-parliamentary Union of Islamic countries for female deputies started its 2-day work from Tuesday April 5, 2011 in Damascus, capital of Syria.
Female deputies from Syria, Iran, Pakistan, Morocco, Algeria, Lebanon, Palestine, Sudan, Somalia, Jordan, Mauritania, Iraq, Turkey, Uganda, Azerbaijan Republic, Senegal and Burkina Faso have participated in the conference.