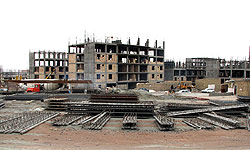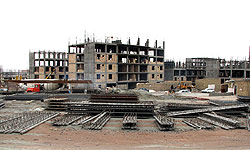 Venezuela's President Hugo Chavez said his country has held contracts with Iran to build thousands of residential units in Venezuela.
Chavez noted the housing shortage in his country, and said Caracas has signed contracts with other states like Iran and china to remove this shortage in his country.
In September, Venezuelan housing officials announced that they had signed a $2.5 billion contract with Iran for the construction of 17,000 housing units in the Latin American country.
Managing-Director of Iran's Keyson Company Mohammad Reza Ansari said at the time that his company was due to "build 30,000 residential units in three cities and 7,000 more in a city in a mountainous region in Venezuela".
According to Ansari, the company's last contract with Venezuela, which included construction of 10,000 houses in the Latin country, pleased Hugo Chavez. Keyson built the 10,000 houses in three years.
A statement by the Venezuelan Foreign Ministry said in August Iran and Venezuela have signed a $1 billion deal to build 10,000 houses in the Latin American country.
The statement added that the houses would be constructed over the next 18 months in the Venezuelan states of Yaracuy, Lara and Carabobo and are expected to house 45,000 people.
During his visit to Tehran in October, Venezuelan President Hugo Chavez called on Iranian experts to resolve the housing problem in his country just as they solved the accommodation problem in Iran.
"I hope the Iranian Minister of Housing and Urban Development could come to our country with his experts and find a solution to our problem just as they resolved the housing problem in Iran in such a short time," Chavez said during a visit to the city of Parand.
Parand, the biggest of Iran's new cities, is the model of industrializing housing development in the country and houses almost 700,000 people.
Iranian Minister of Housing and Urban Development Ali Nikzad, who accompanied Chavez during the visit, said, "Iranian companies have built 10,000 homes in Venezuela and we have reached an agreement to develop another 50,000 housing units in that country."
Also earlier this month, Head of the Shelter Branch at the UN Human Settlements Program Mohamed El Sioufi praised Iran for the mass-construction of beautiful and strong houses in the country, and said the UN plans to provide other states with Iran's experiences in this field.
"The UN Human Settlements Program intends to provide other countries in the region with Iran's experiences in house construction and introduce Iran's experiences, specially in this arena, to the world," Sioufi said after visiting a housing project near Tehran on Sunday.
He referred to the contracts signed between Iran and other countries, including Venezuela, Iraq and Syria, for building a large number of houses in those countries, and said Iran with its management and engineering skills can play a main role in strengthening different buildings, specially against earthquake.