Indonesia
Asia-Pacific
Iran
Middle East
Iranian-flagged oil tanker seized in January by Indonesia released
Tehran has secured the release of an Iranian-flagged tanker, seized by Indonesian maritime authorities earlier this year over allegations of illegal transfer of crude oil in the Southeast Asian country's waters.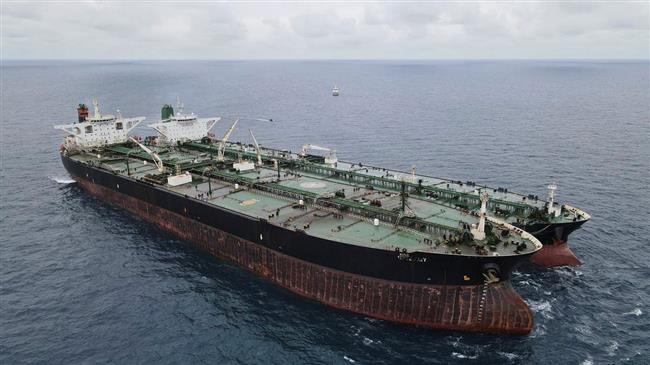 "The MT Horse, belonging to the National Iranian Tanker Company that had been detained in Indonesian waters since January 24, was released on Friday," the Islamic Republic of Iran Broadcasting (IRIB) news agency reported.
The report added that the vessel was released after a legal battle which lasted for 125 days, thanks to all-out efforts by senior Iranian officials as well as the Consular Affairs Department of Iran's Foreign Ministry.
"This vessel has now resumed its mission before returning to the country's waters," it noted without giving further details
On January 24, Indonesia claimed its coast guard had seized the Iranian-flagged MT Horse and the Panamanian-flagged MT Freya vessels in the country's territorial waters.
A spokesman for the Indonesian Maritime Security Agency, Colonel Bakamla Wisnu Pramadita, claimed the two tankers concealed their identity by not showing their national flags, turning off automatic identification systems and did not respond to a radio call.
Saeed Khatibzadeh, spokesman for the Iranian Foreign Ministry, said at the time that Tehran was "waiting for more reports from the Indonesian government on the seizure of the Iranian oil tanker."
In his weekly press conference, Khatibzadeh said the seizure of Iranian tanker "is a technical issue and there have been such incidents in the shipping lines before."
Khatibzadeh noted Iran's Ports and Shipping Organization and the ship owner company were looking to investigate the reasons for the seizure to resolve it.

"The Iranian embassy and the Iranian Ministry of Transport and Urban Development are pursuing the issue," he added.