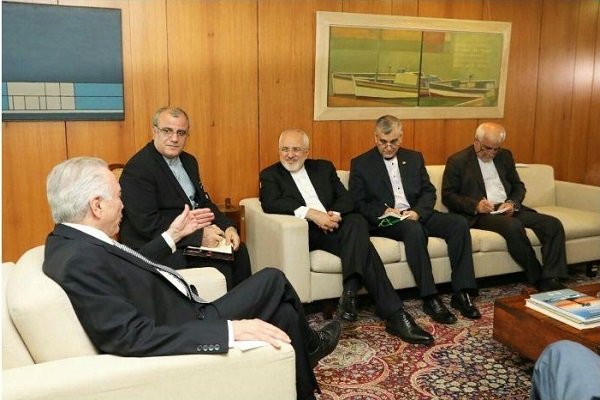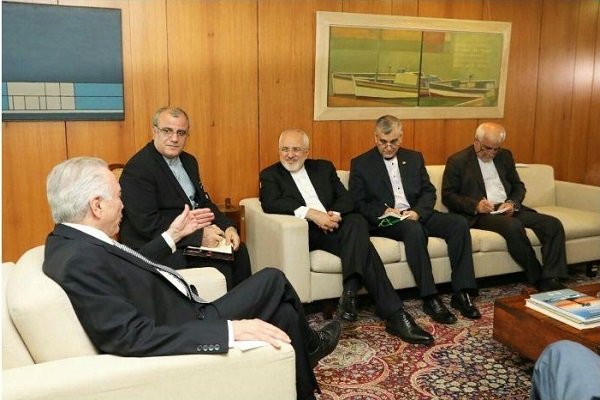 Iranian Foreign Minister Mohammad Javad Zarif in a meeting with Brazilian President Michel Temer welcomed Brazil's investment in the country's oil and gas sector.
During the meeting held Tuesday in Brasilia, Iranian Foreign Minister Zarif called for expansion of economic ties and reaching a balance in trade transactions between the two countries. He also deemed cooperation in energy, transit, agriculture and advanced technologies 'complementary' due to the two countries' current progress.
Zarif also stressed the need for removing banking obstacles. The use of national currencies, activation of Brazil's credit line for Iran, conducting joint projects on new technologies such as nanotechnology, biotechnology and aviation, were among other topics of discussion raised by Zarif at the meeting.
The Iranian diplomat further thanked the Brazilian government for its support of Iran's right to nuclear energy for peaceful purposes, calling for the continuation of political talks between the two sides.
President Michel Temer, for his part, voiced Brazil's keen interest in expanding relations with Iran and developing cooperation on advanced technologies, and called for exchanging delegations and increasing contacts between the two sides.
He stressed that Brazil has no issue with Iran's development of peaceful nuclear activities, voicing his country's support for Iran's nuclear program.
He also welcomed cooperation with Iran in oil and gas sector, saying that the exchange of politico-economic delegations between the two countries would further cement bilateral relations.