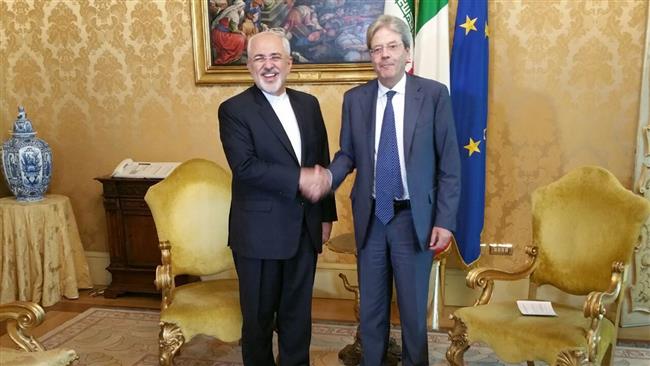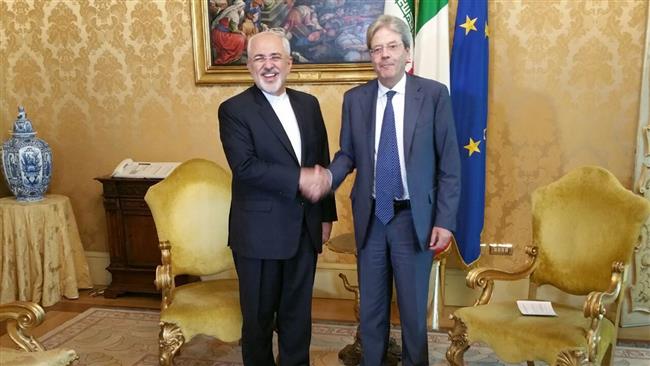 Iranian Foreign Minister Mohammad Javad Zarif has visited the Italian capital, Rome, and held talks with senior officials of the European country about issues of bilateral and global significance.
Following a visit to Germany, Zarif traveled to Rome, where he took part in a meeting of the European Council on Foreign Relations on Wednesday.
Later in the day, Zarif sat down with Italian Prime Minister Paolo Gentiloni Silveri and Parliament Speaker Laura Boldrini to discuss ways of promoting Tehran-Rome ties with the two officials.
Zarif also held a meeting with his Italian counterpart, Angelino Alfano.
Alfano slammed the June 7 deadly terror attacks in Tehran by Takfiri Daesh terrorists and underlined the need for fighting terrorism and extremism.
He also voiced support for the 2015 nuclear deal between Iran and six world powers, saying the landmark accord, officially called the Joint Comprehensive Plan of Action, ensures regional and global stability.
The top Italian diplomat further hailed Iran's commitment to the deal as confirmed in the recent report by the International Atomic Energy Agency.
Under the nuclear agreement, Iran undertook to put limitations on its nuclear program in exchange for the removal of nuclear-related sanctions imposed against Tehran.
Elsewhere in his comments, the Italian foreign minister pointed to the positive attitude of Italian businesses towards Iran and stressed that Rome seeks to enhance bilateral relations with Tehran.
Zarif, for his part, touched on the current developments in the Middle East and said Italy can use its capacity to help reduce tensions among the regional countries.
He also warned that any US attack on Syria with baseless justifications will once against give rise to Daesh threats in the region.
On Tuesday, the White House accused Syria of preparing to stage a chemical attack in the Arab country, threatening that the US would make Damascus pay "a heavy price."
On April 4, over 80 people died in an attack reportedly involving chemicals in the town of Khan Shaykhun in the western Idlib Province of Syria.
Western countries were quick to blame the Syrian government for what they said was a chemical attack without any investigation into the incident. Days later, the US used the attack as a pretext to fire 59 Tomahawk cruise missiles at a Syrian airfield in the central province of Homs. US officials claimed that the alleged Khan Shaykhun gas attack had been launched from that airfield.
This is while Syria and its ally Russia said the Syrian government had conducted a conventional airstrike on militant positions in Khan Shaykhun, which also targeted a chemical arms depot held and run by anti-Damascus militants, causing a leakage of the toxic substance and the deaths.