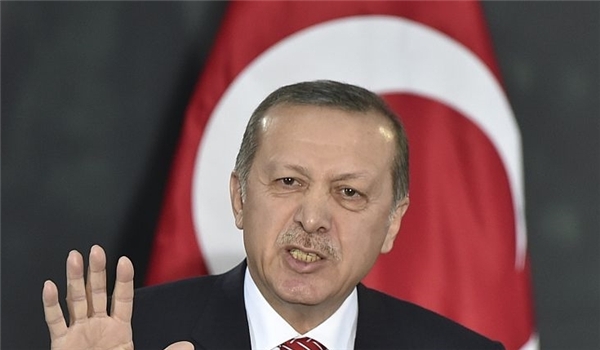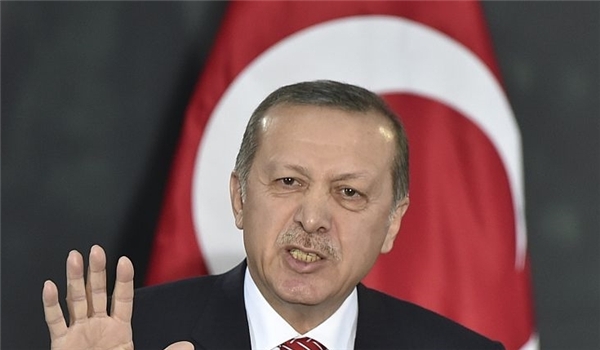 Vice-Chairman of the Iranian Parliament's National Security and Foreign Policy Commission Mansour Haqiqatpour warned against Turkish President Recep Tayyip Erdogan's scenario to disintegrate Syria by proposing creation of a buffer zone in the Northern parts of the country.
"What Erdogan is trying to do is a dangerous scenario for disintegrating Syria," Haqiqatpour told FNA on Friday.
He noted the Turkish president will make a big mistake by creating a buzzer zone in Northern Syria and he will also have to pay a heavy price for his mistake.
Haqiqatpour said that Erdogan who has been a staunch supporter of the ISIL is now trying to prepare the conditions for suppressing the Kurds and separate Northern Syria from the rest of the country through his buffer zone plan.
On Thursday, Iran's foreign ministry voiced Tehran's strong opposition to the creation of a buffer zone in Syria as violation of the country's territorial integrity and sovereignty by foreign states, and said such measures will further make the regional conditions critical.
"Creation of a buffer zone inside Syria is a violation of the country's territorial integrity and sovereignty," Iranian Deputy Foreign Minister for Arab and African Affairs Hossein Amir Abdollahian told FNA.
"Some solutions should be found so that the international rights are not violated," he added.
"There is no need to make the regional conditions more critical with such unnecessary measures," Amir Abdollahian said.
His remarks came after certain media reports claiming that the Turkish forces are ready for military intervention in Syria under the pretext of creating a buffer zone to protect the Turkish borders against the threat of the terrorist groups.
In October, Syria's Foreign Ministry rejected foreign powers' talk about imposing a buffer zone on Syrian soil.
"The Turkish attempts to establish a buffer zone on the Syrian soil is a flagrant violation to the charters of the UN and international law," the ministry said in a statement.
It added that "Syria totally rejects the establishment of a buffer zone on any part of its terrain under any pretext and also rejects the foreign military intervention on its soil".
The ministry stressed that the Syrian government would take all necessary measures to protect its national sovereignty and the unity of its territories after consulting with other countries.
The statement came as Turkey had been floating the idea of setting up a buffer zone on the Syrian side of the borders under many pretexts, mainly to solve the issue of the Syrian refugees on Turkish soil.