Iran
Iranian Intelligence Minister: No Security Problem Reported in Presidential Election Yet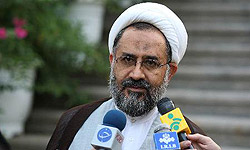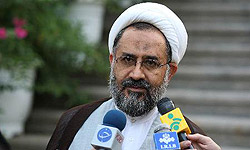 Iranian Intelligence Minister Heidar Moslehi said the security conditions in all polling centers and constituencies are normal and no problem has been reported since nationwide voting started this morning.
Speaking to reporters about the security conditions at the polling stations across the country and asked if any security problem has been reported to him, Moslehi said, "No such issue has been reported to us so far."
He said enemies' plots to lower the public turnout in the elections have remained futile, and added, "I hope people's presence at the polling stations would be landslide."
"Thanks God, our people are aware and are staging a spirited participation in the election," the intelligence minister continued.
The 11th Presidential and 4th City & Village Councils elections started across the country at 08:00 hours Tehran's time (0330 GMT) Friday.
Voting will last 10 hours and polling stations close at 6 pm, although voting hours could be extended if necessary. Counting of the ballots will start at 24:00 on Friday and final results will be announced in the following 24 hours.
Presidential campaign for today's election kicked off on May 22 after the Guardian Council released the list of 8 qualified candidates – although 6 have remained in the race now – and ended at 8:00 local time on Thursday.
The qualified candidates represent a wide range of political streams from Principlists to reformers.
In addition to Rouhani, Tehran Mayor Mohammad Baqer Qalibaf, former Iranian Foreign Minister and Supreme Leader's top advisor for international affairs Ali Akbar Velayati, Supreme National Security Council (SNSC) Secretary and chief nuclear negotiator Saeed Jalili, former Oil and Telecommunication Minister Seyed Mohammad Qarazi, and former Islamic Revolution Guards Corps (IRGC) Commander and Expediency Council Secretary Mohsen Rezayee are fighting for the presidential post today.
The elections started at some 60,000 polling stations nationwide this morning and are simultaneously being held in 96 world countries.
Over 50 million Iranians are eligible to vote in the presidential election.