Iran
Iranian Interior Ministry Extends Voting Hours for 4th Time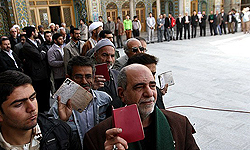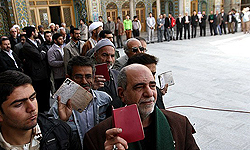 High public turnout made Iranian election officials to extend voting hours for the fourth time.
The Iranian Interior Ministry said it has decided to keep polling centers open until 11 p.m. local time (1930GMT) since people are still waiting to cast their votes in many polling stations across the country.
Polling started at 8 a.m. (0430 GMT) this morning and was slated to end at 6:00 p.m. (1430 GMT) before the Interior Ministry, which is in charge of elections, was made to extend the voting hours for several times due to the high public turnout.
Polling has been heavy since the very beginning. Reports from various media outlets this morning said that large numbers of people had queued behind closed doors since 5 a.m., that is three hours before polling stations opened.
Thousands of additional ballot papers have been sent to various Iranian cities after local electoral authorities from different constituencies across the country asked the Interior Ministry to send them more papers due to the large, and still growing, public turnout.
Around 3,269 candidates are present in the race, vying for 290 seats in the legislature.
Over 47,000 polling stations have been set up for people to elect representatives to the parliament.
Over 48 million Iranian voters are eligible to cast their ballots.