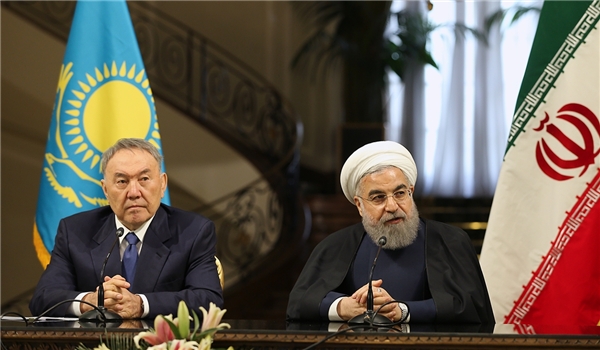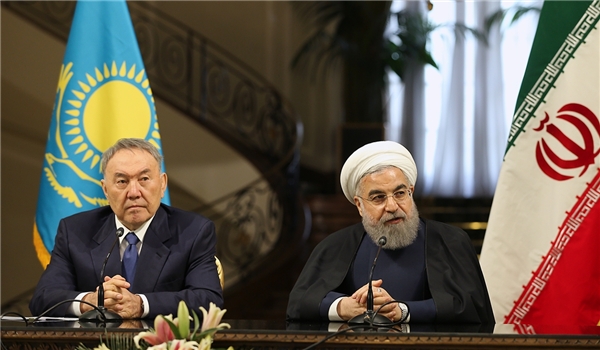 Iranian President Hassan Rouhani and his Kazakh counterpart Nursultan Nazarbayev in a meeting in Kazakhstan on Sunday conferred on ways to increase economic cooperation, emphasizing the need for both countries to use national currencies for trade instead of dollar.
"Tehran and Astana can take more effective steps on the path of development of bilateral relations by establishment of more brokering ties and using their national currencies," President Rouhani said during the meeting on the sidelines of leaders of Caspian Sea littoral states' summit in the Kazakh port city of Aqtau on Sunday.
He also underscored the necessity for strengthening banking relations between the two countries to further expand bilateral economic ties.
"The capacities of Iran and Kazakhstan in different sectors, specially in the field of transit, can be complementary to each other as Kazakhstan may be linked to the Southern waters through Iran, and Iran can be connected to China via Kazakhstan," Rouhani said.
Nazarbayev, for his part, said that trade ties between Iran and Kazakhstan have considerably increased in recent years, adding that his country is determined to further strengthen these relations.
In a relevant development in March, Iranian Foreign Minister Mohammad Javad Zarif and his Kazakh counterpart Kairat Abdrakhmanov in a meeting in Astana underlined the need for expanding all-out cooperation, specially in economic and trade fields.
During the meeting in Kazakhstan's capital, Zarif and Abdrakhmanov explored avenues for bolstering and reinvigorating bilateral relations, specially in the field of economy.
Two sides voiced determination to pave the way for stronger economic ties.
The foreign ministers of Iran and Kazakhstan emphasized the implementation of bilateral agreements between the two countries, particularly in the fields of energy, transit, joint ventures and trade exchanges.
Other issues discussed at the meeting were facilitating the issuance of visas for economic activists of the two countries, removing barriers to banking cooperation, and paving the way for Kazakh companies willing to invest in transportation sectors in Iran.
Foreign ministers of Iran and Kazakhstan also exchanged views on the most important regional and international issues.