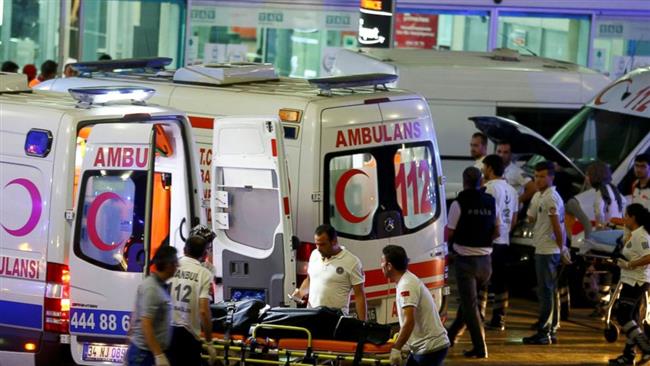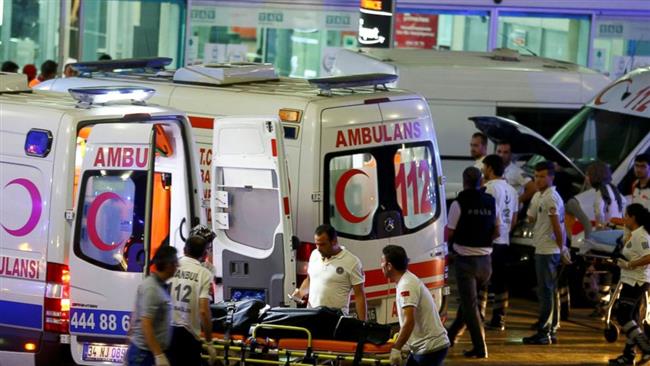 An Iranian national has lost his life in the recent terrorist attack in Istanbul's Atatürk International Airport, says a Foreign Ministry official.
Deputy Foreign Minister Hassan Qashqavi said on Wednesday that five other Iranians sustained injuries in Tuesday's triple bombing and gun attacks, which killed 41 people and injured 239 others.
Iran suspended all flights to Istanbul's main international airport on Wednesday.
"Due to last night's explosions at Ataturk Airport … all Iranian flights are suspended until their safety and security are guaranteed," Reza Jafarzadeh, the director of the public relations at Iran's Civil Aviation Organization, was quoted as saying by Fars news agency.
Jafarzadeh added that the flights might be resumed in the afternoon.
Iranian Foreign Ministry strongly condemned as "inhumane" the deadly attack and expressed condolences with the Turkish government and nation and the bereaved families of the victims.
"Extremism and terrorism knows no borders," Foreign Ministry spokesman Bahram Qasemi said, calling for a "collective and global determination to fight the ominous phenomena."
Qasemi reiterated the Islamic Republic's preparedness to cooperate with the regional countries to uproot the dangerous scourge.
Iranian Foreign Minister Mohammad Javad Zarif had earlier condemned the attack and called for global unity in the war against terrorism.
"Terror rears its ugly head yet again in our friend & neighbor's airport. Extremist violence is a global threat; we must confront it together," he tweeted early on Wednesday.
Three terrorists blew themselves up late on Tuesday night as security forces were trying to block their progress into the airport.
According to Turkish officials, police forces started firing at suspects when they tried to pass the international terminal's entry, before the security check.
A few hours after the attack, Turkish Prime Minister Binali Yildirim announced that early signs suggested that the Daesh Takfiri terrorist group was behind the bombings.
Turkish government has declared Wednesday a day of national mourning over the deadly attack at Istanbul's international airport with flags ordered to half-staff.
Major Turkish cities have witnessed a series of bombing attacks since last July when the country launched a military campaign against militants of the outlawed Kurdistan Workers' Party (PKK) in the southeastern border areas.
The Turkish military has also been conducting offensives against the positions of the group in northern Iraq.
The operations began in the wake of a deadly July 2015 bombing in the southern Turkish town of Suruc. More than 30 people died in the attack, which the Turkish government blamed on the Daesh Takfiri terrorist group.
After the bombing, the PKK militants, who accuse the government in Ankara of supporting Daesh, engaged in a series of attacks against Turkish police and security forces.