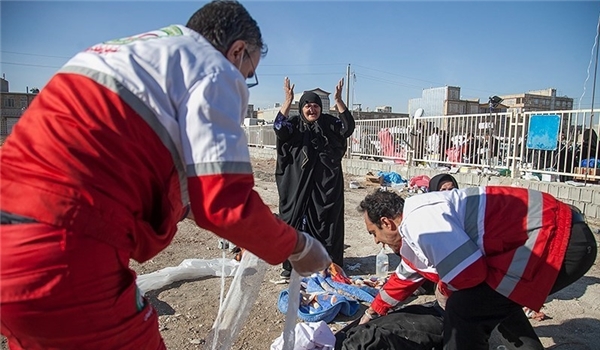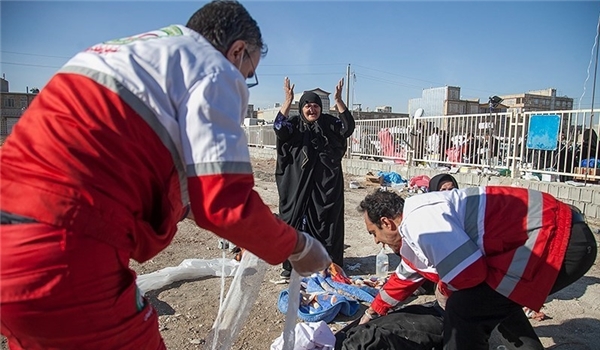 Supreme Leader of the Islamic Revolution Ayatollah Seyed Ali Khamenei and President Hassan Rouhani in separate messages underlined the necessity for using all forces and possibilities to help the people hurt in the recent 7.3-magnitude earthquake in Western Iran.
"The officials are required to use all their efforts and power in the first hours to help the hurt people, specially those who are still under the ruins, and prevent increasing tolls by using all existing possibilities rapidly," Ayatollah Khamenei said in his message on Monday.
"The Army, the Islamic Revolution Guards Corps (IRGC) and Basij (volunteer forces) should help evacuation of debris and transfer of the wounded (to hospitals) in an organized and rapid way and the governmental bodies, both military and civil, should use all their power to help the harmed people and their families," he added.
Ayatollah Khamenei also extended his condolences to the Iranian people, specially the bereaved families of those killed in the earthquake.
Also, President Rouhani in a message on Monday expressed deep sadness over the incident, and underscored that he is in permanent contact with the governor-general of Kermanshah province and the interior minister and has ordered his first Vice-President Eshaq Jahangiri to supervise and manage efforts to help the harmed people in Western Iran.
He also sympathized with the damaged people and those families who have lost their beloved ones in the earthquake.
A strong earthquake measuring 7.3 on the Richter scale rattled all cities and towns along Iran's Western border with Iraq on Sunday, killing at least 372 people.
The Seismological center of the Geophysics Institute of Tehran University registered the quake that was felt across Iran, Iraq, Kuwait, Syria, Turkey and Lebanon at 21:48 hours local time (18:18 GMT).
The epicenter of the quake that was felt deep in Iran was located in the depth of 11km in an area 45.9 degrees in longitude and 34.84 degrees in latitude, South of the town of Azgaleh in Iran's Western province of Kermanshah.
The quake has so far been followed by over 135 aftershocks ranging from 2 to 5 in magnitude.
The powerful jolt made people in the capital, Tehran, and a number of other cities including, Tabriz and Isfahan, pour into the streets in panic.
The quake has destroyed a number of buildings in rural areas and caused cracks in the walls of villages and towns in a number of towns some 122km to the West of Kermanshah city. Reports said a sum of 372 people have been killed and more than 6000 others have been injured in Iran's Western city of Qasr-e Shirin, Azgaleh and number of other towns and villages, while reports from Iraq mentioned a number of casualties and destruction of buildings in 8 villages.
Phone, Internet and powerlines are down in a number of nearby towns and villages.
Iran is criss-crossed with fault lines and is regularly hit by earthquakes, experiencing at least one slight tremor every day on average.
Iran sits astride several major faults in the earth's crust, and is prone to frequent earthquakes, many of which have been devastating.
The worst in recent times hit Bam in southeastern Kerman province in December 2003, killing 31,000 people – about a quarter of its population – and destroying the city's ancient mud-built citadel.
The deadliest quake in the country was in June 1990 and measured 7.7 on the Richter scale. About 37,000 people were killed and more than 100,000 injured in the northwestern provinces of Gilan and Zanjan. It devastated 27 towns and about 1,870 villages.
Tehran alone sits on two major fault lines, and the capital's 14 million residents fear a major quake.