Iran
Iranian Martyrs come home after tens of years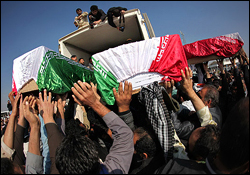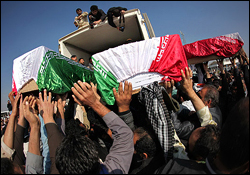 A few hours ago the people of Bushehr, city in southern Iran, welcomed corpses of martyrs from the years 1980-88, the Imposed war of Iraq on Iran.
The corpses, in the battle fronts for years, were found in recent expeditions of the exploration team to be handed back to their families for funeral.
Considerable number of the martyrs' bodies are not found yet, and the ten-year-old effort to return them to their families goes on.
Saddam Hussein, the Iraqi dictator, kindled an unfair war on Iran with U.S.-Western inducement and backing in 1980, being forced to set back after 8 years of bravery and valor from the Iranian youth who demonstrated the Iranian staunchness.