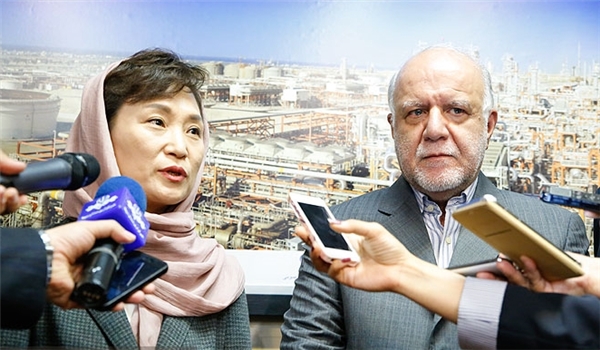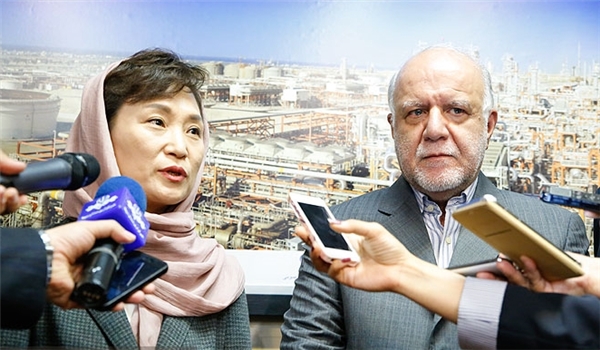 South Korean Minister of Land, Infrastructure and Transport Kim Hyun-mee underlined that his government supports the companies willing to invest in Iran's oil industry.
"The government supports the South Korean companies' investment in Iran," Kim told reporters after meeting Iranian Oil Minister Bijan Namdar Zanganeh in Tehran on Tuesday.
Asked about the partnership of the Korea Gas Corporation (KOGAS) in Iranian projects, she said, "The company's managers are in negotiations with the Iranian firms and the managing-director of the company had a meeting with the Iranian deputy oil minister in May."
Market figures showed last week that South Korea's imports of crude oil from Iran hit the highest level in six months in September in a fresh sign that the Islamic Republic is pushing ahead with plans to regain the market share it lost as a result of several years of sanctions.
South Korea, the world's fifth-biggest crude importer, purchased 1.83 million tons or 446,000 million barrels per day (mb/d) of Iran's oil last month (September).
The rise came as Iran – together with Iraq that exported 3.98 mb/d last month – took advantage of production cuts implemented by Saudi Arabia.  Lower exports by the Saudis provided an opportunity to the two neighbors to win buyers in key markets like China and the US.