Iran
Iranian Navy Tests Home-Made Hovercrafts' Operational Capability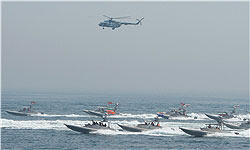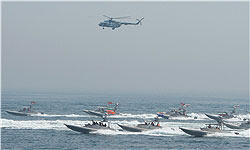 Iran's Navy tested the operational capabilities of its home-made hovercrafts on the third day of Velayat 91 naval drills.
Spokesman of the Naval Wargames Rear Admiral Amir Rastegari announced that on the third day of the drills, the home-made hovercrafts, which have been launched in November and on the occasion of the National Navy Day, conducted "personnel and equipment carrying operations" along the country's Southern coastlines in the strategic Strait of Hormuz.
Rastegari added that the different naval units also embarked on conducting coastal defense against hypothetical enemy forces.
In November 2012, Iran equipped its Navy fleets with two new hovercrafts one of which enjoys missile launching capabilities.
In a ceremony attended by Iranian Navy Commander Rear Admiral Habibollah Sayyari in Iran's Southern port city of Bandar Abbas, hovercrafts BH7 which had been overhauled by local experts and SRNX whose Iranian name is Tondar (Thunderbolt) and has been manufactured through indigenized technology joined the Navy's fleets in Iran's Southern waters.
Iran also unveiled the highly advanced home-made Tondar which can launch missiles and serve as launch pad for drones in a ceremony earlier this month.
Rastegari further said that Navy choppers also conducted mine-sweeping exercises and operation to evacuate personnel and equipments from the general zone of operation.
Yesterday, the Iranian Navy tested the operational capabilities of its submarine units, exercised mine-planting operations and conducted different tactics of defending territorial waters and coastlines.
The wargames, codenamed 'The Great Naval Wargames of Velayat 91', started on Friday, will last 6 days and will cover around one million square kilometers from the Strait of Hormuz to the waters up to the 18-degree latitude.