Iran
Iranian Navy Tests Submarines' Capabilities, Mine-Planting, Coastal Defense Tactics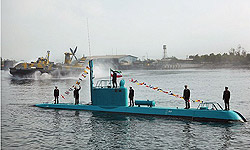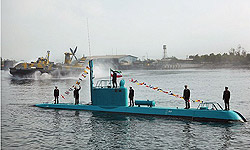 The Iranian Navy tested the operational capabilities of its submarine units, exercised mine-planting operations and conducted different tactics of defending territorial waters and coastlines on the second day of Velayat 91 naval wargames on Saturday.
Spokesman of the Wargames Rear Admiral Amir Rastegari announced that on the second day of the drills, Iran's light and kilo-class submarines have traversed the territorial and international waters, conducted reconnaissance missions and traced hypothetical enemies successfully.
According to Rastegari, Tareq super heavy submarine which has been recently overhauled by Iranian experts was put back into operation during the exercises today.
The commander said Navy choppers and speed boats also conducted mine planting operations to insecure the line of voyage of the hypothetical enemy's aggressive surface and sub-surface vessels and block their aggression against Iran's territorial waters.
Rastegari further said the naval fleets also conducted coastal defense tactics to counter an invasion of hypothetical enemy vessels.
He called these exercises as successful, and said, "The Army's Navy proved today that it is able to confront enemy even if it advances up to the coasts of Iran's territorial waters."
The wargames, codenamed 'The Great Naval Wargames of Velayat 91', started on Friday, will last 6 days and will cover around one million square kilometers from the Strait of Hormuz to the waters up to the 18-degree latitude.
Iranian Navy Commander Rear Admiral Habibollah Sayyari told reporters on Friday that the naval drills would be carried out in the Strait of Hormuz, the Sea of Oman, north of the Indian Ocean, the Gulf of Aden and Bab-el-Mandeb Strait.