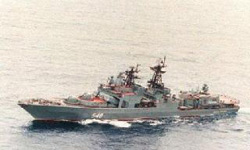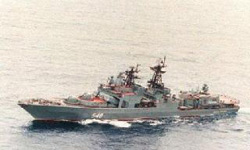 The Iranian Navy is slated to start massive drills in international waters in the Sea of Oman and the Indian Ocean on Saturday.
Iranian Navy Commander Rear Admiral Habibollah Sayyari said at a press conference on Thursday that the naval maneuvers dubbed Velayat 90 will start on Saturday and will cover an area stretching from the east of the Strait of Hormuz in the Persian Gulf to the Gulf of Aden.
Sayyari said the exercises were intended to show "Iran's military prowess and defense capabilities in the international waters, convey a message of peace and friendship to regional countries, and test the newest military equipment".
"The newest missile systems and torpedoes will be employed in the maneuvers," he said, and added that "destroyers, missile-launching vessels, logistic vessels, drones and coastal missiles will also be tested".
The exercises are Iran's first since May 2010 and the largest the country ever planned. The scale of the maneuvers, the type of weapons and military tools and systems as well as the highly sophisticated tactics and strategies to be employed in the drills intend to demonstrate Iran's military capabilities after the US and zionist israel intensified war rhetoric against Iran.
The exercises are bound to put Iranian warships close to vessels of the United States Fifth Fleet, based in Bahrain, which patrols some of the same waters, including the Strait of Hormuz.
About one-third of the world's oil tanker shipments pass through the strait, which the United States Energy Information Administration has called "the world's most important oil chokepoint".
zionist israel and its close ally the United States accuse Iran of seeking a nuclear weapon, while they have never presented any corroborative document to substantiate their allegations. Both Washington and Tel Aviv possess advanced weapons of mass destruction, including nuclear warheads.
Iran vehemently denies the charges, insisting that its nuclear program is for peaceful purposes only. Tehran stresses that the country has always pursued a civilian path to provide power to the growing number of Iranian population, whose fossil fuel would eventually run dry.
Iran has warned that it would target zionist israel and its worldwide interests in case it comes under attack by the Tel Aviv.
The United States has always stressed that military action is a main option for the White House to deter Iran's progress in the field of nuclear technology.
Iran has warned that in case of an attack by either the US or zionist israel, it will target 32 American bases in the Middle East and close the strategic Strait of Hormuz.
An estimated 40 percent of the world's oil supply passes through the waterway.