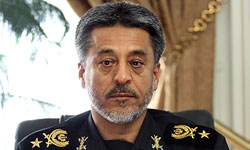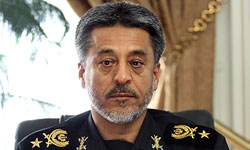 Iranian Navy Commander Rear Admiral Habibollah Sayyari and Omani Royal Navy Commander Rear Admiral Abdullah bin-Khamis bin-Abdullah al-Raisi held a meeting in Tehran on Wednesday night to discuss issues related to the two neighbors' defense cooperation.
The Commander of the Oman Royal Navy and his accompanying delegation who arrived in Tehran on Monday morning during their stay in the Islamic Republic of Iran visited various units of the Iranian Navy in Bandar Abbas (port) in the South and Noshahr in the North.
Commander of the Oman Royal Navy and his accompanying delegation after visiting District One of the Islamic Iranian Navy in Bandar Abbas attended a gathering IRI Navy commanders on the deck of the Iranian-made Jamaran Destroyer and visited the various parts of that destroyer, after which accompanied by their high ranking Iranian naval hosts, they also visited the Iranian Navy's Naval Facilities Manufacturing Workshops and the Iranian Floating Objects Repair Shops.
Over the last few years, Iran and Oman have expanded military ties and cooperation specially over security in the Persian Gulf.
The two countries signed a security agreement in August 2009.
Later in August 2010, the two Persian Gulf states signed an agreement to further boost mutual cooperation in the field of defense.
In December, the Iranian parliament approved a bill that allows Tehran to implement an agreement on security cooperation and coordination with Oman.