Iran
Middle East
Palestine
Resistance Axis
Iranian Paper Publishes Map of 'israeli' Targets: "Just One Wrong Move!"
An Iranian newspaper, Tehran Times, published on Wednesday an article, revealing a map of dozens of Israeli targets by the Islamic Republic.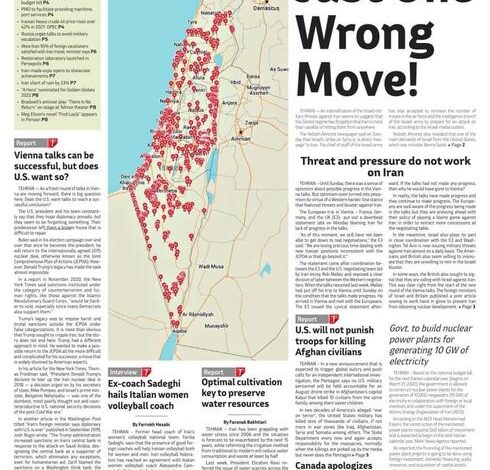 Alongside a front-page opinion piece headlined "Just one wrong move!" the map showed scores of markers along the length and breadth of the Zionist entity.
The article opened by declaring, "An intensification of the Israeli military threats against Iran seems to suggest that the Zionist regime has forgotten that Iran is more than capable of hitting them from anywhere."
It went on to cite Hebrew media reports about a visit last week by Israeli Defense Minister Benny Gantz and Mossad Chief David Barnea to Washington, where they reportedly stressed concerns over Iran's ballistic missiles.
The paper also noted that the Israeli occupation forces earlier this month said it will conduct a major air force exercise in the spring simulating a strike on Iranian nuclear facilities.
Chief of General Staff of Iran's Armed Forces Mohammad Bagheri was quoted by the paper as saying that Iran never takes lightly threats made by its "enemies".
"Despite our confidence in our deterrence, our forces are prepared for the smallest of threats in the strategic field," he was quoted as saying.
The article ended by quoting a threat by Supreme Leader of the Islamic Revolution Imam Sayyed Ali Khamenei from 2013, in which he warned that Iran would "destroy Tel Aviv and Haifa" if the Israeli regime "makes a mistake" and conducts a military strike.
The Iranian article swept Israeli media's headlines, with Zionist newspapers regarded it as a clear message to the occupation regime.
The article and the map represents "a reminder that Iranian forces can ostensibly strike anywhere they want," Times of Israel said.