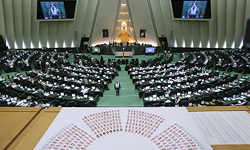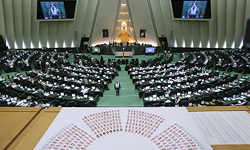 The Iranian parliament underlined on Wednesday that Israel's defeat in the recent war against the besieged Palestinians in Gaza disclosed the regime's abundant weaknesses, and said the defeat also showed that the Zionists were greatly fearful of confrontation with resistance groups in a ground war.
"Based on the analysis done by Zionist sources, they didn't plan for a ground attack (on Gaza) and (feared that) the attack, if staged, would lead to more casualties for the Zionists," the Iranian parliament's Research Center said in a report issued after thorough investigations about the recent 8-day war between Israel and the Palestinians in Gaza.
The report said that the Zionists didn't embark on a ground attack during the 8-day war since they had found some proofs that resistance groups were equipped with Kornet anti-armored missiles which showed good function during the 33-day Israeli war on Lebanon in 2006 and managed to destroy the Merkava 4 tanks.
The Palestinian resistance groups who had the experiences of the 22-day war of 2008 had also announced their readiness for giving a crushing response to the Zionist regime's possible ground attack on Gaza and this was another reason for Israel to retreat its plans for a ground invasion of Gaza, added the report.
Israel triggered an 8-day fighting by assassinating the military chief of the ruling Hamas group on November 14 followed by dozens of airstrikes on Gaza.
In response, Palestinian groups fired over 1,500 missiles, upgraded by the technology provided by Iran, and rockets at Israel.
Palestinian resistance groups targeted Tel Aviv and areas near Jerusalem for the first time in the history of confrontations between the two sides, launching a rocket attack in a major escalation of hostilities as Israel pressed forward with relentless airstrikes on the Gaza Strip.
Israel called up thousands of reservists and massed troops along the border with Gaza, signaling a ground invasion of the densely populated seaside strip could be imminent.
But the attack on the Israeli settlement, along with an earlier strike on Zionists' capital Tel Aviv, frightened the Israeli regime, making it drop its aggression plans and ask for third party mediation.
Eventually, a Cairo-mediated ceasefire agreement, which took effect on Wednesday November 21, ended the Israeli attacks, which killed more than 165 Palestinians and injured about 1,269 others.