Iran
Iranian People Voice Support for IRGC, Urge Enhancement of Defense Capabilities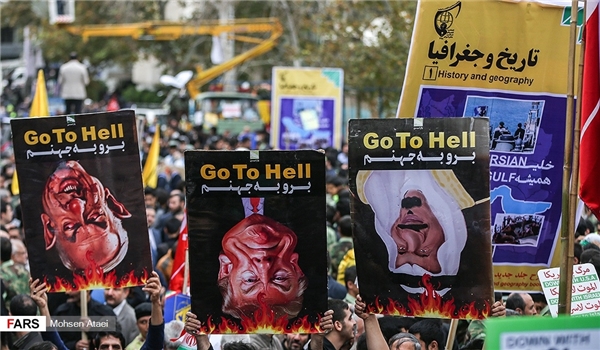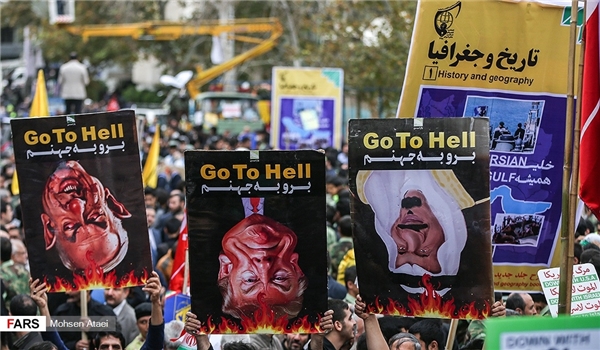 Millions of Iranian people and students in their Saturday rallies asked the Islamic Republic to bolster the country's military and defense programs, describing the Islamic Revolution Guards Corps (IRGC) as a strong dam against enemies' plots.
"The Iranian nation considers the IRGC as a strong dam against enemies' influence, a power to foil the arrogance system's plots in the region and a thorn in the eyes of the US, the illegitimate and fake Israeli regime and the anti-revolutionary forces," they said in a resolution at the end of rallies held to mark the national Student Day and the National Day of Campaign against Arrogance across Iran on Saturday.
"Therefore, we demand strengthening and enhancing the country's military and defense capabilities and the Armed Forces, consider the powerful IRGC as a source of honor for the Iranian nation and voice decisive and all-out support for this revolutionary body," the resolution added.
Noting that the Iranian nation views the criminal US as its number one enemy, it condemned US President Donald Trump's insulting remarks against the Iranians and the IRGC and his use of a fake name for the Persian Gulf.
The resolution also underscored the necessity for reliance on the internal capabilities and forces regardless of the new US disloyalties and sanctions in defiance of the 2015 nuclear deal, describing the economy of resistance as the only way to fight the US and its allies' plots against Iran.
Since the 1979 takeover of the US embassy in Tehran, Iranians have been celebrating the occasion every year by holding rallies on the anniversary and marking it as the National Day against the 'Global Arrogance'.
November 4 marks three important events in Iranian history: the takeover of the former US embassy in Tehran by Muslim students following the Imam's line in 1979 and the exile of Imam Khomeini by the Shah in 1964. It also marks the massacre of a large number of Iranian school students by the army of the former Pahlavi regime during the 1979 Islamic Revolution.
Iranian university students took over the US embassy building to thwart what they called Washington's plots against the Islamic Revolution.
Inside the embassy, the students found shredded documents which proved their convictions.