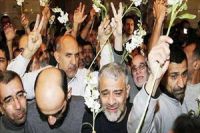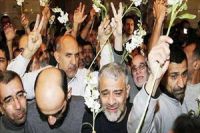 Forty-eight Iranian pilgrims, who were kidnapped by foreign-sponsored terrorists in Syria several months ago, have arrived at Tehran's Mehrabad Airport.
According to Press TV, the abductees arrived in Tehran Thursday afternoon, a day after they were released in a swap deal between the Syrian government and armed opposition groups.
The Iranian pilgrims, who were traveling on a bus from Damascus International Airport to the shrine of Hazrat Zainab (SA) on the outskirts of the Syrian capital, were abducted by the militants on August 4, 2012.
In a video aired by the Saudi-owned Al-Arabiya television network, the militants threatened to kill all the Iranian abductees if the Syrian government did not release the captured militants and did not stop operations against the armed groups in the country within 48 hours. The threat, however, was never carried out.