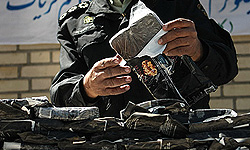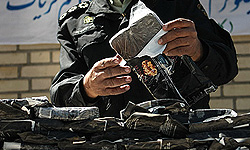 Iran's border guard units have seized over 22 tons of narcotics in the bordering areas of the country's Southeastern province of Sistan and Balouchestan during the last six months, a provincial commander announced on Tuesday.
Sistan and Balouchestan's Border Guard Coordinator Ahmad Shahraki said that the seizures have been made by the provincial border guard forces since the beginning of the current Iranian year (started on March 21).
Shahraki added that the volume of seizures has witnessed a 116% increase compared with the same period last year.
The official also noted that Sistan and Balouchestan's provincial forces have killed 62 major drug-traffickers and outlawed trespassers during the last six months.
He further said that 2.5 million litters of smuggled fuel have also been confiscated by the police along the borders, and mentioned that the figure shows a 42% increase compared with the same period last year.
Iran, located at the crossroad of international drug smuggling from Afghanistan to Europe, has taken new security measures in its border provinces following several attacks by terrorists and drug traffickers at its eastern and western borders.
The crackdown has cost Iran more than 600 million dollars over the past two years. Last year, Iran allocated over $150 million to strengthen border security and block the entry of terrorists and drug traffickers into the country.
Strategies pursued by Tehran include digging canals, building barriers and installing barbed wire to seal its borders.