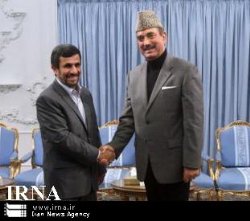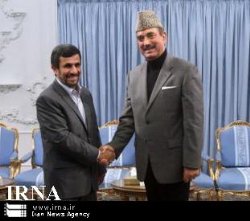 President Mahmoud Ahmadinejad said that Intl. Nowruz Celebrations can be an event to shorten distance and strengthen ties between nations.
According to the report of Presidential Office website on Saturday evening, President Ahmadinejad in a meeting with India's Minister of Health and Family, who is in Tehran to attend International Nowruz Celebrations, said that colonialists had always invaded nations and are trying to dominant the world today, too.
Establishment of stability and security is among joint viewpoints of Iran and India, Ahmadinejad said adding that Iran believes taht with participation of both countries, peace, stability and tranquility could be established in the region.
He called Iran-India relations historical and cultural adding that the two countries are in the same cultural field and the feeling of close friendship comes from such joint culture and history.
President Ahmadinejad said that Nowruz belongs to all mankind and it is a feast of human convergence, peace and brotherhood.
India's minister of Health, for his part, described relations between the two countries deep and historical adding that the two countries have many cultural commonalities and have had desirable relations since long time ago and India is trying to use all its potentials to promote ties more and more.
He underlined that Iran and India have important interests in establishment of stability in the region and expressed India's readiness to participate with Iran in establishment of stability in the region.