Iran
Iranian President Arrives in Dushanbe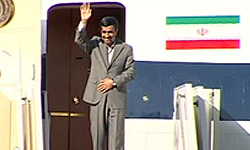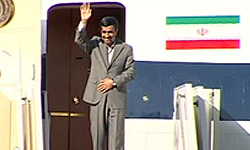 Iranian President Mahmoud Ahmadinejad arrived in Tajikistan on Saturday to attend the Third International Nowrouz Festival and also the Fifth Economic Forum on Afghanistan due to be held in Dushanbe.
Earlier this month, Tajikistan's President Emomali Rahmon in a meeting with Iranian Foreign Minister Ali Akbar Salehi in Dushanbe had officially invited his Iranian counterpart to attend the international Nowrouz festival.
Ahmadinejad is the founder of the International Nowrouz Festival himself.
Speaking at a meeting with Iranian representative offices in Tajikistan earlier this month, Iranian Ambassador to Dushanbe Ali Asqar She'rdoust said that "President Mahmoud Ahmadinejad will be in Tajikistan on March 24-26 and he will deliver speeches at the International Nowrouz Festival there and also at the Fifth Economic Forum on Afghanistan to be attended by 40 foreign ministers and a large number of heads of foreign representative offices and international institutes in the Tajik capital of Dushanbe".
The Iranian diplomat noted that Salehi, Energy Minister Majid Namjou, Roads and Housing Minister Ali Nikzad, Health Minister Marzieh Dastjerdi and Science and Higher Education Minister Kamran Daneshjou will accompany Ahmadinejad during his visit to Tajikistan.
Nowrouz, which coincides with the first day of spring on the solar calendar, is mostly celebrated in Iran, Afghanistan, Azerbaijan, India, Kyrgyzstan, Tajikistan, Pakistan, Turkey and Uzbekistan.
The International Day of Nowrouz was registered on the UNESCO List of the Intangible Cultural Heritage of Humanity on February 23, 2010.