Iran
Iranian President Asks for Continued Meeting of Health Protocols to Prevent Spread of Coronavirus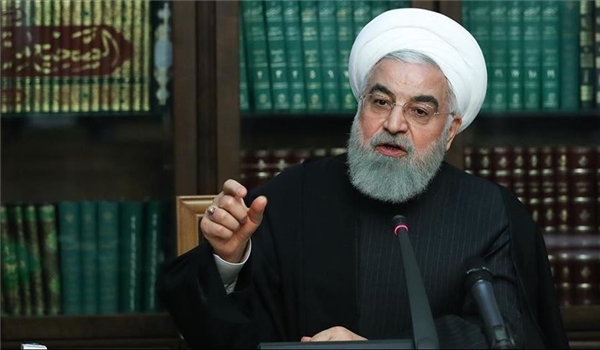 Iranian President Hassan Rouhani called on the country's people to continue respecting the health protocols and avoid unnecessary trips to prevent the second wave of coronavirus epidemic.
President Rouhani made the remarks during his talks with Health Minister Saeed Namaki on assessment of the situation of pandemic across the country.
Describing the effective implementation of guidelines and health protocols to fight the coronavirus pandemic as successful experience in recent weeks, the president said the country has reached an acceptable level of control of the virus.
The sole way to contain the COVID-19 is to fully follow health protocols, he stressed.
Rouhani further called on media, cyber space and TV channels to more inform people of the issue encouraging them to follow the protocols and social distancing rules.
About the outcomes of negligence of the health directives, the president said if the rules are not obeyed, the government would be forced to restore quarantine situation again, disrupting the normal life and the entire national economy will suffer serious damages.
Rouhani appreciated the round-the-clock efforts and sacrifices of the medical personnel and the officials at the Ministry of Health to help people fight against the coronavirus in different parts of the country.
The Iranian health ministry announced on Wednesday that 3,134 new cases of infection to coronavirus have been diagnosed in the country in the past 24 hours, adding that the number of deaths has surpassed 8 thousand.
"3,134 more patients infected with COVID-19 virus have been identified in the country in the past 24 hours based on confirmed diagnosis criteria," Health Ministry Spokesman Kianoush Jahanpour said on Wednesday.
He explained that 493 new patients have been hospitalized and 2,641 others or 84% are identified as outpatients who have been in contact with infected individuals.
Jahanpour noted that the total number of coronavirus patients in the country has increased to 160,696 people.
He expressed pleasure that 125,206 patients have recovered and been discharged from hospitals.
Jahanpour said that 8,012 people have lost their lives due to infection to the virus, including 70 in the past 24 hours.
The ministry's spokesman, meantime, expressed concern that 2,557 patients infected with COVID-19 virus are in critical conditions.
He added that 997,009 coronavirus tests have been conducted in Iran so far.
Jahanpour continued that unfortunately Khuzestan province is still in red condition.
He also expressed concern over the increasing number of coronavirus patients in East Azarbaijan, West Azarbaijan, Kurdistan, Kermanshah, Qazvin, Sistan-Balouchestan, Khorasan Razavi and Hormozgan provinces.