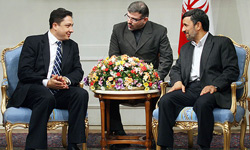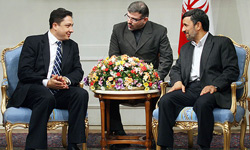 Iranian President Mahmoud Ahmadinejad underlined hegemonic powers' incompetence to manage world affairs, and added that future belongs to the freedom-seeking nations.
Speaking at a meeting with visiting Bolivian President of the Chamber of Deputies Hector Arce here in Tehran on Thursday, President Ahmadinejad noted that today all countries have realized that the global arrogance (imperialist countries) cannot administer the world any longer because it is facing numerous problems and it is declining.
Ahmadinejad pointed out that the arrogant powers (global imperialism) are against dignity, independence and progress of other countries.
"Hence, the world needs a new order based on justice and those who feel being brothers and close to each other have a greater burden on their shoulders for setting the new world order," he added.
The Iranian president further said that brotherhood and proximity of freedom-seeking nations plays a constructive and crucial role in shaping the new world order.
"Brotherhood and proximity of freedom-seeking nations not only strengthens their resistance vis-a-vis the arrogant powers, but they play a constructive and crucial role in setting up a new world order," he added.
"We believe that Iran and Bolivia, as well as all freedom-seeking nations are in the same front. The future belongs to us and all freedom-seeking nations of the world," he added.
Arce, for his part, said that Bolivia's parliament is determined to do its best for expediting implementation of bilateral agreements.
"Although it is not a long time since the establishment of ties between Iran and Bolivia, their relations have rapidly improved due to the fact that both countries have joint ideals and also joint enemies," Arce stated.