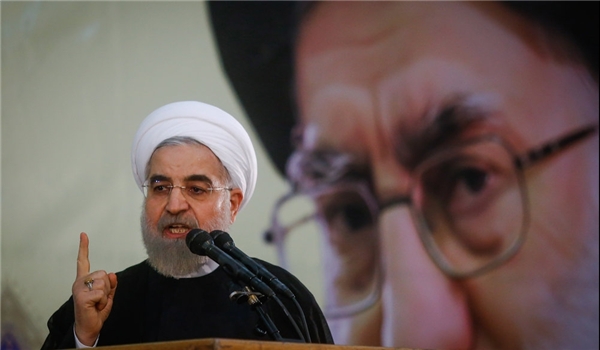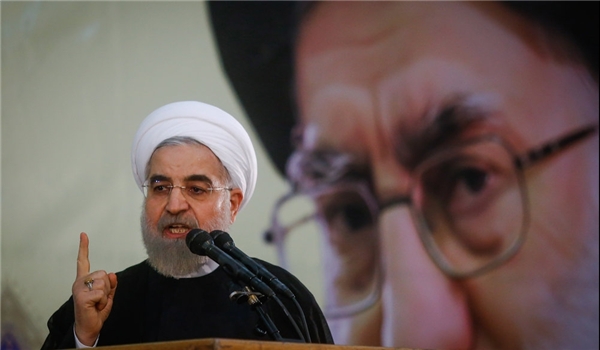 Iranian President Hassan Rouhani blasted certain countries for selling their crude to purchase weapons for the military invasion of Yemen.
"Unfortunately, certain states change their petrodollars into destructive weapons and use them against the Yemeni nation," Rouhani said, addressing a ceremony to commemorate the anniversary of the demise of Imam Khomeini, the late founder of the Islamic Revolution, at his mausoleum in Tehran on Wednesday night.
This is while the Iranian nation has helped the Yemeni, Iraqi, Lebanese, and other nations and other regional states which are standing against terrorists and violence, he added.
In relevant remarks on Tuesday, Iranian Foreign Minister Mohammad Javad Zarif voiced concern that the revenues gained through selling crude by certain countries are used for supplying the terrorist groups with weapons.
"The innocent Syrian, Iraqi, Yemeni, Bahraini, Palestinian and Lebanese people are burning in the fire of sedition of extremists and Takfiris and petrodollars pour oil to the fire of the supply of the weapons which don't differentiate between their targets and target women, children and civilians with in most savage ways," Zarif said in Tehran, addressing the inauguration ceremony of the international forum on the foreign policy of Imam Khomeini.
He expressed regret that the terrorist groups and the promoters of violence commit the most horrible crimes against the innocent people in the region.
Zarif also warned of the spreading waves of terrorism in the world, saying that very few world regions have been left where the symptom of violence and extremism against innocent people is not seen very readily.
Also last month, a Syrian university professor underlined that Washington and Tel Aviv are implementing their plots in region with the petrodollars of the Persian Gulf Arab states.
"The US and Israel are killing the Arab citizens of the region with petrodollars of the Persian Gulf Sheikhdoms," Damascus University Professor Wael al-Imam told FNA.
He noted that the Arab regimes of the Persian Gulf states can only survive with the US support, and said that oil is their only guarantee for continued rule; these countries protect the security of the Quds Occupying Regime and it is easy for them to victimize the Syrian, Palestinian, Iraqi and Yemeni nations in a bid to protect their own rule and regime.
Also, former Yemeni President Ali Abdullah Salih underlined on Friday that Saudi Arabia was behind all the recent crises in the regional countries in order to serve the interests of Israel and implement the US plots in the region.
"Saudi Arabia is behind all the crises in Syria, Iraq, Libya and Yemen," the Beirut-based Al-Mayadeen television channel quoted Salih as saying.
He underlined that Saudi Arabia is after abolishing the republic system in Arab countries because the Al Saud regime deems such system against its own interests.