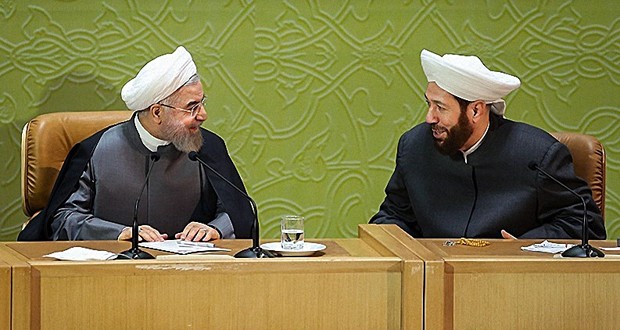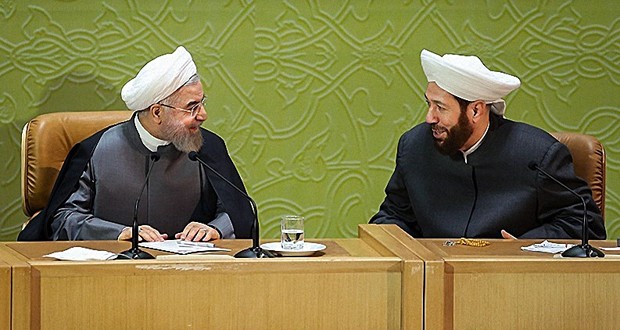 Iranian President Hassan Rouhani condemned the inhuman and brutal practices perpetrated by the takfiri terrorist organizations against the people in Syria and Iraq and dmolishing churches, mosques and heritage in the two countries.
Rouhani, in an opening word at the 28th session of the International Conference on Islamic Unity kicked off Wednesday in Tehran, criticized the Islamic world's silence towards the barbaric war and acts of destruction targeting Palestine, Syria, Iraq and Lebanon.
Representatives of 65 countries across the world.including Syria are participating in the conference. Syria's delegation is headed by Grand Mufti Ahmad Bader-Eddin Hassoun.
President Rouhani expressed his country's support to all countries which were exposed to terrorist attacks by the armed terrorist organizations.
"Islam is a religion of tolerance, not of violence and extremism" the Iranian President said, calling for fighting extremism and violence by all means.
for his part, Grand Mufti Hassoun said that Syria is facing a war against terrorist and takfiri organizations from 83 countries that seek to undermine its principles, independence, and sovereignty.
Hassoun called upon the Islamic world to unify and assume its responsibilities to face the terrorist practices carried out by takfiri organizations against Islamic countries.
He expressed appreciation for Iran's support to the Syrian people and the resistance in Palestine and Lebanon, stressing that Syria is on its way to achieve victory thanks to the strength of its people and the wisdom of its leadership.