Iranian President Stresses Tehran, Baghdad's Key Roles in Region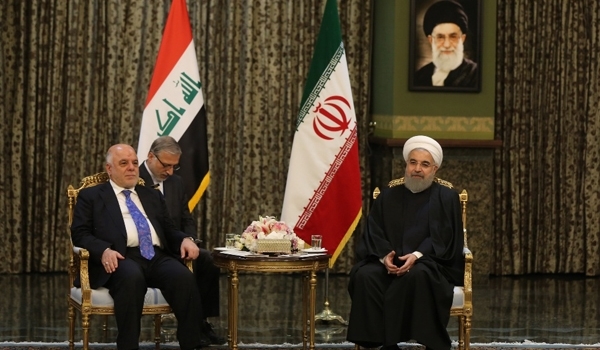 Iranian President Hassan Rouhani in a meeting with former Iraqi Prime Minister Haider al-Abadi in Baghdad on Tuesday underlined the two countries' important and effective roles in the region.
"Fortunately, relations between the people and different governments of Iran and Iraq have always had a positive trend and officials of the two countries have pursued the path of the growing development of these relations well," President Rouhani said.
"Today, we should endeavor to deepen Tehran-Baghdad cooperation in different fields, including trade, economy and higher education, through developing relations between political activists, parties and universities of the two countries," he added.
Abadi, for his part, stressed the importance of President Rouhani's visit to Baghdad, saying, "The two countries have had highly close relations and cooperation in the past few years, specially in fighting against terrorism in the region and today, we should try to further expand and continue bilateral relations in different economic, cultural and trade fields."
President Rouhani arrived in Iraq on Monday in order to boost bilateral ties between the two neighbors amid US sanctions against the Islamic Republic.
Rouhani traveled to Baghdad to hold talks with Iraqi officials. A high-ranking delegation is accompanying the president.
In relevant remarks on Monday, President Rouhani underlined his country's willingness to further broaden close ties with Baghdad, saying that Tehran wanted a secure and democratic Iraq.
"We want to be two highly close and united countries with Iraq and not united against each other; we should stand united to attract other regional states too. Iraq's stability, security and democracy is highly important to us and we know that a stable Iraq will lead to security and stability in the region," President Rouhani said in a joint press conference with his Iraqi counterpart Barham Salih in Baghdad.
"Both countries have been fighting against terrorism in the past few years and we are very happy that we have stood beside the Iraqi nation and army in hard days. We consider Iraq as an important country in our region which can play a very important role in regional security and close relations among the regional states," he added.
President Rouhani said there were no different views during his talks with President Salih, noting that both countries enjoy the necessary capacities for mutual cooperation in trade, investment, tourism, environmental and energy fields as well as the banking sector and technical and engineering services.