Iran
Iranian President: Terrorism, Extremism More Dangerous than Ebola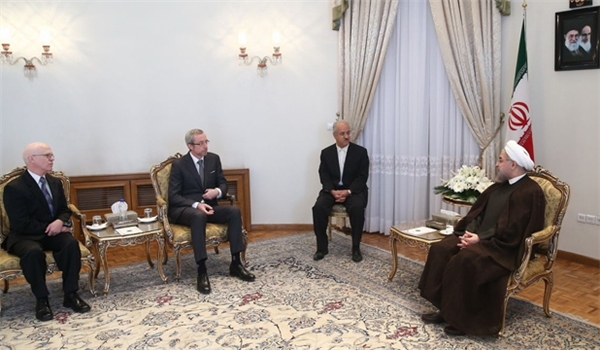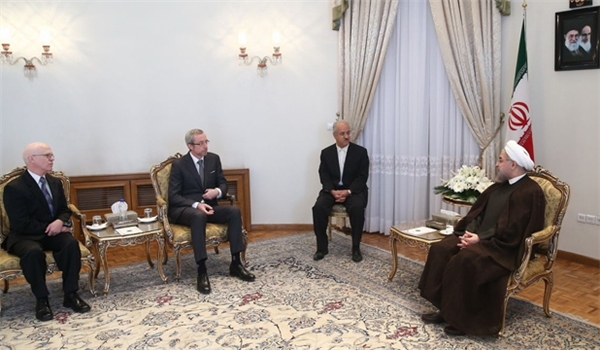 Iranian President Hassan Rouhani who had last year warned against the imminent threat of the spread of radicalism and violence in the world, stressed that terrorism and extremism are more dangerous than the spread of Ebola.
"The disease of terrorism and extremism is more dangerous than Ebola and the only way to fight this threat is sympathy, coordination and cooperation among countries," Rouhani said in a meeting with the new Belgian ambassador to Tehran on Monday.
He underscored Iran's readiness to consult with all influential countries for an effective campaign against terrorism and extremism.
On December 18, the UN General Assembly overwhelmingly voted to approve Rouhani's WAVE proposal, which calls on all nations across the globe to denounce violence and extremism. The Iranian president had made the proposal in his address to the UN Disarmament Conference in New York on September 25, 2013.
Under the UN resolution adopted in accordance with the WAVE proposal, the General Assembly would urge member states to take "appropriate measures to strengthen universal peace and to achieve international cooperation in solving international problems of an economic, social, cultural, or humanitarian character".
Elsewhere in the meeting, President Rouhani referred to the sanctions imposed against Iran, and said continued embargos will harm all sides, specially the EU.
"The baseless pretexts which have caused imposition of cruel sanctions against Iran shouldn't harm those countries which had desirable relations with Iran in the last few years," he added.
Washington and its western allies accuse Iran of trying to develop nuclear weapons under the cover of a civilian nuclear program, while they have never presented any corroborative evidence to substantiate their allegations. Iran denies the charges and insists that its nuclear program is for peaceful purposes only.
Tehran stresses that the country has always pursued a civilian path to provide power to the growing number of Iranian population, whose fossil fuel would eventually run dry.
Despite the rules enshrined in the Non-Proliferation Treaty (NPT) entitling every member state, including Iran, to the right of uranium enrichment, Tehran is now under four rounds of UN Security Council sanctions and the western embargos for turning down West's calls to give up its right of uranium enrichment.
Tehran has dismissed West's demands as politically tainted and illogical, stressing that sanctions and pressures merely consolidate Iranians' national resolve to continue the path.
Tehran has repeatedly said that it considers its nuclear case closed as it has come clean of International Atomic Energy Agency (IAEA)'s questions and suspicions about its past nuclear activities.