Europe
Iran
Middle East
Iranian protesters in Tehran call for expulsion of shameless UK ambassador
Iranian protesters have demonstrated in front of the British embassy in downtown Tehran to condemn the presence of the UK ambassador in an illegal gathering that led to his brief arrest.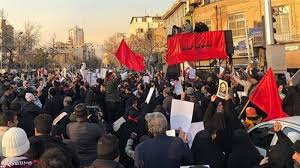 The demonstrators on Sunday, which included a large number of university students as well as students from religious seminaries, called for the expulsion of Ambassador Rob Macaire.
Macaire was briefly detained during a protest in front of Amir Kabir University in downtown Tehran on Saturday when he was organizing and provoking people angry at the government's handling of the aftermaths of a plane crash earlier this week.
UK ambassador arrested while organizing protests in Tehran: ReportReports in Iranian media suggest UK ambassador has been arrested while organizing protests in Tehran.
The Boeing 737-800, on its way to Kiev and ultimately bound for Toronto, was shot down unintentionally on January 8, hours after Iran fired missiles at two US military bases in neighboring Iraq.
The students held hand-written placards that condemned the UK embassy's malicious behavior.
Chanting "Death to the UK", "British spy out!" and "Close the spy den," the participants voiced opposition to the seditious policies of Britain and its ambassador.
According to the Fars news agency, people from all walks of life also attended the demonstration to accompany the students.
Moreover, the demonstrators chanted in support of the Islamic Revolution Guards Corps (IRGC) and Iran's national security forces.
Expressing condolences to the families of those killed in the recent plane incident, the protesters stressed that their major demand was the removal of the UK envoy and the shutdown of the embassy.
The university and seminary students trampled on the British flag and voiced their aversion to the hostile policies of British leaders against Iran.
The Ukraine International Airlines (UIA) crash came a few minutes after take-off from Tehran en route to Kiev. All the 176 people on board were killed and among them 147 were Iranians.
Iran: Ukrainian plane brought down 'due to human error'Iran says a Ukrainian plane which crashed outside Tehran this week had flown close to a sensitive military site and been brought down due to human error "at a time of crisis caused by US adventurism."
Early on Saturday, Iran's General Staff of the Armed Forces said in a statement that the jet had been shot down "unintentionally" due to "human error."
Later on Saturday, Head of the Aerospace Division of the IRGC General Amir-Ali Hajizadeh accepted full responsibility for the downing and said he had "wished he could die" after being informed of the matter on the same day the crash took place.
We accept full responsibility for Ukrainian plane crash: IRGC Aerospace chiefIran