Iran
Technology
Iranian researcher designs motorcycle-like wheelchair with chain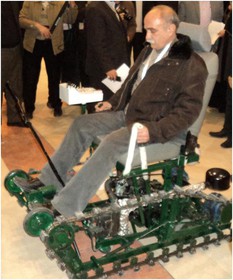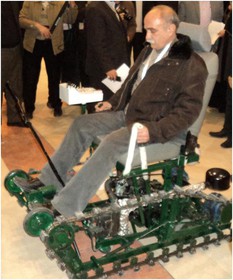 An Iranian researcher has designed a wheelchair with chain for the first time in the country, making it possible for veterans and disable people to easily cross over obstacles in roads.
"The wheelchair seeks comfort of disable people and resolving their problems in crossing over obstacles. The issue is very influential in morale of the disable people," Mohammadreza Mirzadeh, the lead author of the project told ISNA.
He added the wheelchair with motorcycle-like structure can pass over all platforms, raceways and grooves which are as wide as 50 centimeters and the disable person does not feel the slope.
The wheelchair acts as a motorcycle in case there is no obstacle and can move up to 12 km/h in a long distance.
The newly-designed system is equipped with rubber tire and 4 automatic gears.
The device costs only $1200 which is fairly economical comparing to the foreign version now imported from other countries.