Iran
World News
Iranian, Russian DMs discuss further cooperation in anti-terror fight
Iranian and Russian defense ministers have held talks on enhancement of mutual cooperation between the two countries' armed forces in a bid to strengthen regional and global stability and security and in the fight against terrorism.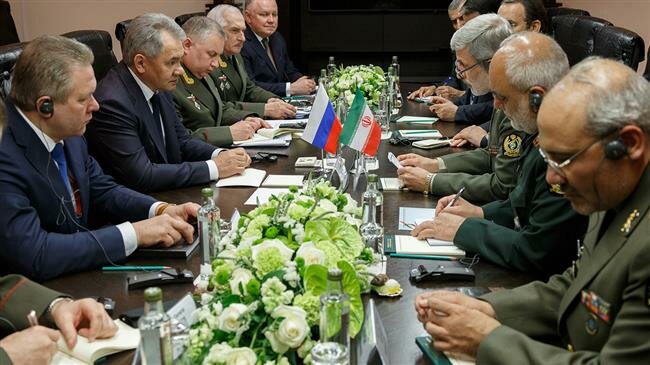 Iranian Defense Minister Brigadier General Amir Hatami and his Russian counterpart Sergei Shoigu held the meeting on Friday in Moscow on the sidelines of the Moscow Conference of International Security (MCIS).
Hatami highlighted the growing trend of defense and security interactions between the two countries in light of the determination of Iranian and Russian political leaders.
However, he added, the two states have numerous capacities for promotion of their interaction, and need to develop their military and defense cooperation in both quantity and quality.
The Iranian defense chief also underlined that enhanced military ties between the two sides can further reinforce stability and security in the region and the world.
Shoigu, in turn, said Tehran and Moscow have already managed to promote their military and defense cooperation to a great level, but the two sides need to maintain their military interactions in training, technical, and security fields.
He also pointed to the two countries' cooperation within the framework of Astana Process, stressing the key role of joint efforts by Iran and Russia in the fight against terrorism and establishment of ceasefire in Syria.
"Cooperation in the Astana format plays a significant role in establishing ceasefire regime and stabilizing situation in the Syrian Arab Republic," the Russian defense minister noted.
The Astana Process refers to an initiative by Iran, Russia, and Turkey which mediate peace negotiations between representatives from the Damascus government and opposition groups in a series of rounds held in the Kazakh capital Astana – recently renamed as Nur-Sultan – and other places since January 2017.
The talks, which are collectively referred to as the Astana peace process, have so far helped significantly reduce violence gripping the Arab country by establishing four de-escalation zones there. They have also paved the way for the formation of a Constitutional Committee.
This is while the parallel UN-backed peace process in Geneva has failed to deliver much.
Delegations from Iran, Russia and Turkey arrived in Nur-Sultan on Thursday, seeking an end to the eight-year conflict in Syria. The UN envoy for Syria, Geir Pedersen, is also participating in the talks.
The top Russian negotiator said after the first day of the talks that the three guarantor states of the ceasefire regime in Syria are "clearly determined" to continue their fight against terrorism in the Arab country.
Over the past few years, the Syrian military, with advisory military help from Iran and Russia — and a Russian aerial bombardment campaign — has retaken control of much of the country, and the conflict is generally believed to be winding down.
Idlib remains the last major piece of Syrian land still not in control of the Syrian government.