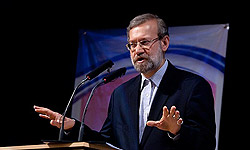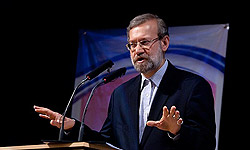 Iranian Parliament Speaker Ali Larijani condemned the new round of Israeli assaults on the innocent Palestinian people, and asked all Muslim states to supply the Palestinians with arms and military equipment to help them defend themselves.
"The Muslim states spearheaded by the pioneering countries should declare an undertaking on the basis of which any Zionist regime's attack on the Palestinians will be interpreted as an attack on the (worldwide) Islamic state, requiring them to extend military assistance to the Palestinian nation," Larijani said, addressing an open session of the parliament in Tehran on Sunday.
He also blasted certain Muslim states' silence on the Israeli crimes against the Palestinians, and said their silence has emboldened the regime to wage another attack on Gaza.
"Therefore, some of these countries are accomplices of the Zionist regime in its crimes" against the Palestinians, Larijani said.
Over 54 Palestinians have been killed and more than 550 others injured in the new wave of Israeli attacks on the Gaza Strip since Wednesday.
Israel triggered the new round of its assaults against Gazans by assassinating the military chief of the ruling Hamas group on Wednesday followed by dozens of airstrikes on Gaza.
In response, the Palestinian groups have fired more than 1,000 missiles and rockets at Israel. Several Israelis have been killed and about 100 others wounded in five days since Israel initiated the attacks.
Palestinian resistance groups targeted a settlement near Jerusalem for the first time Friday, launching a rocket attack in a major escalation of hostilities as Israel pressed forward with relentless airstrikes on the Gaza Strip.
Israel called up thousands of reservists and massed troops along the border with Gaza, signaling a ground invasion of the densely populated seaside strip could be imminent. The attack on the Israeli settlement, along with an earlier strike on Zionists' capital Tel Aviv, has frightened the Israeli regime.