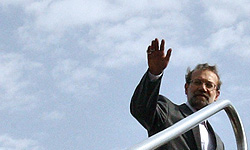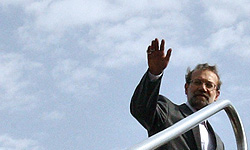 Iranian Parliament Speaker Ali Larijani ended his 6-day official visit to India, where he conferred on the bilateral relations with senior Indian officials.
Larijani arrived in Tehran's Mehrabad International Airport on Friday.
Larijani had left Tehran for India on Sunday in a bid to discuss bilateral ties with Indian officials, specially in parliamentary grounds.
Heading a high-ranking parliamentary delegation, Larijani embarked on a 4-day visit to India at the invitation of Indian Parliament Speaker Meira Kumar.
Larijani was heading a high-ranking parliamentary delegation during the visit, which included senior Iranian legislators Mohammad Ashouri, Gholam Reza Taj-Gardoun, Behrouz Nemati, Fatemeh Alia, and Esfandiyar Ekhtiyari.
Iran and India which have deep historical and cultural relations are now seeking to further expand political and economic ties.
India, the world's fourth-largest petroleum consumer, is Iran's second largest oil customer after China and purchases around $12bln worth of Iranian crude every year, about 12 percent of its consumption.