Iran
Middle East
Palestine
Iranian Speaker's Advisor Warns of Netanyahu's Attempts to Turn Bahrain into Israeli Island
Advisor to the Iranian Parliament Speaker Hossein Amir Abdollahian lashed out at Israeli Prime Minister Benjamin Netanyahu and al-Khalifa officials for betraying the Palestinian and Bahraini nations.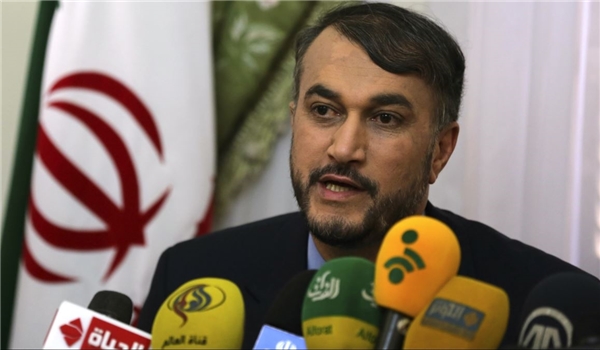 "Kushner, Trump's Zionist son-in-law, has spoken of unveiling the 'Deal of Century' plot in Bahrain," Amir Abdollahian wrote on his twitter page on Tuesday.
"Netanyahu intends to turn Bahrain into an Israeli island and Riyadh wants Bahrain to pay the heavy price of the 'Deal of Century'," he added.
Amir Abdollahian said that the al-Khalifa regime is both committing crime against the Bahraini people and betraying the Palestinian nation.
The economic part of the so-called US peace plan will be revealed on June 25 in Bahrain during an international conference, the White House announced Sunday. It is unclear when the political part of the plan will be released.
The conference will be held as Palestinians have voiced opposition to Trump's deal of century plot.
A senior Hamas official stated earlier this month that Palestinians would resist the so-called deal of the century proposed by the administration of US President Donald Trump, stopping at nothing less than creating an "independent Palestinian state".
"As Palestinians, we will not accept such ideas. We will resist. No one can accept selling his own land. We will not accept Jerusalem al-Quds being the capital of another state; it will be the capital of the Palestinian state forever," Hamas' international relations committee head Osama Hamdan said.
Describing the so-called plan as "a new Israeli-American arrangement" for the region, Hamdan said that Palestinians stood united against any concessions on the liberation and sovereignty of Palestine.
"We have to liberate it. There are Palestinian refugees that have to return to their homeland and we have to create our own independent state on all the Palestinian lands from the river to the sea," he added.
Hamdan also made reference to what he described as the Palestinian nation's objection to former Egyptian President Anwar Sadat's Camp David negotiations with Israel.
"If anyone of the Arabs is seeking to have relations with Israel, he can bring the Israelis to his homeland, (not Palestine)," he noted.
The Hamas official stated that "if anyone wants to do anything good, he has to help the Palestinians and the resistance against the occupation".
Hamdan went on to laud the weekly "right to return" marches that have been held in the Gaza Strip since March 2018 as part of the "resistance against the occupation."
"We will continue the resistance, be it by either the return marches or by military action against the occupation. We will do it until the occupation ceases to exist on Palestinian land," he said.