Iran
Iranian Students Encircle Isfahan N. Site in Show of Support for Gov't Policy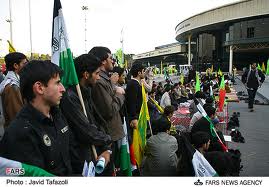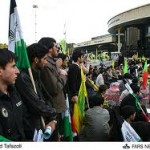 Thousands of Iranian students on Tuesday formed a human chain around Isfahan's Uranium Conversion Facility (UCF) in Central Iran in a bid to show full support for the government's nuclear policy and to display that they are ready to sacrifice their lives for Iran's progress in civilian nuclear technology.
After holding a noon prayer session in front of the plant's main gate, students from nationwide universities shouted "Death to Israel" and "Death to America." They vowed to resist in the event of an attack.
During the ceremony initiated by Isfahan University students, the students supported Iran's peaceful nuclear activities and voiced protest at the baseless report recently released by Director-General of the International Atomic Energy Agency (IAEA) Yukiya Amano on Iran's nuclear program.
Students also held a symbolic trial of the Israeli and American elements behind the assassination of Iran's nuclear scientists.
Amano released a US-dictated report on Iran last Tuesday, in a move seen by many, even in the West, as part of Washington and Israel's efforts to find a new pretext for intensifying pressure on Tehran.
The western diplomats and sources had informed around a month ago that the new report would contain allegations on the basis of some copied documents which have been presented to the IAEA by certain western countries to show that Iran is pursuing a military drive in its nuclear program.
Once the report was released, not only Iran, but also many world states, including Russia, China and the Non-Aligned Movement (NAM) member states, strongly rejected it and blasted the UN nuclear watchdog chief for acting as a White House proxy.
Iran also said that it would not budge "an iota" from its peaceful atomic activities.
Iranian officials and parliamentarians condemned the US-worded report and threatened to withdraw from the IAEA.
Iranian Parliament Speaker Ali Larijani in an open session of the parliament on Sunday blasted the Agency for serving the US and Israeli policies on Iran, specially in its latest report, and announced that the Iranian legislature should soon start reviewing the country's future cooperation with the IAEA.
"The Islamic Consultative Assembly (Parliament) warns the IAEA that this method means animosity (towards Iran) and is a rewriting of the US orders, and thus, it believes that it is necessitated to review Iran's cooperation with the Agency," Larijani said, addressing the parliament.
"Therefore, the parliament's National Security (and Foreign Policy) Commission is required to start studying the issue in cooperation with other bodies and report back the results," Larijani noted.
Meantime, Russian media reported last week that Amano's report on Iran appears to have falsified information about a Russian scientist who allegedly helped Tehran advance its nuclear program.
The report published by a US think tank on Tuesday said that a former Soviet Nuclear bomb physicist had assisted Iran in building a detonation device that could be used in a nuclear weapon.
However, Russian media have found out that the scientists had never worked in nuclear physics but was a leading expert in the production of diamonds by explosion.
The Soviet scientist was not named in the IAEA report but the Kommersant daily easily identified him as Vyacheslav Danilenko, a pioneer in developing the technology of producing nanodiamonds by explosion. Nanodiamonds are used in the manufacture of lubricants and rubber.
Contacted by the newspaper, the 76-year-old scientist, now retired, refused to discuss his work in Iran, saying only, "I'm not a nuclear physicist and I'm not a father of Iran's nuclear program."
His former colleague confirmed Mr. Danilenko's words. Vladimir Padalko, head of a company producing nanodiamonds, said experts from the IAEA and the US State Department had interviewed him several times about Mr. Danilenko's work in Iran.
"I explained to them that nanodiamonds have nothing to do with nuclear weapons," Mr. Padalko told Kommersant.
He confirmed that Mr. Danilenko did work in Iran in the second half of the 1990s, "He worked there on nanodiamonds and read lectures, which later became the basis for a monograph on the subject."
All investigations showed that Mr. Danilenko is not a nuclear physicist and has never worked in the field of nuclear weapons, contrary to the claim made in the IAEA report.
The IAEA report, quoted by the InterPress Agency, says the agency has "strong indications" that Iran's development of a high explosions initiation system" for a nuclear weapon, was "assisted by the work of a foreign expert who was not only knowledgeable on these technologies, but who… worked for much of his career in the nuclear weapon program of the country of his origin."
The IAEA's claim was apparently based on the fact that Mr. Danilenko had worked at the Scientific Research Institute of Technical Physics in Snezhinsk, which was best known as Russia's leading nuclear weapons facility, but which was also involved in development of nanodiamond technology.