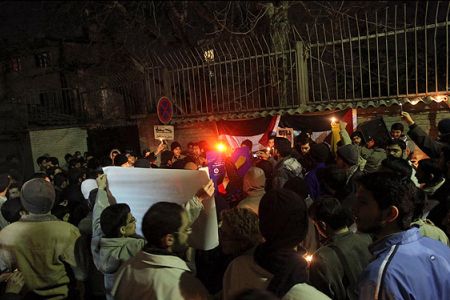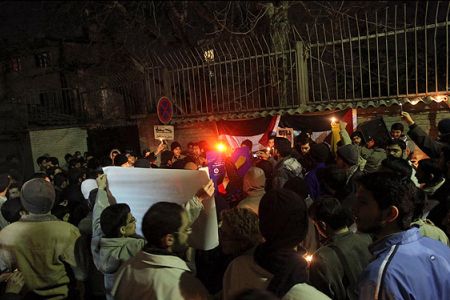 A group of Iranian students have gathered in front of Egypt's Interests Section in Tehran to protest Cairo's continued policy on preventing Iranian activists from reaching the Gaza Strip.
Students from different universities in Tehran rallied on Monday to protest the Egyptian government's decision to block the entry of Iranian activists with an aid convoy carrying food and medical supplies to the Palestinian people in the besieged coastal sliver, IRNA reported.
The Asia to Gaza Solidarity Caravan, (Asia 1) entered the coastal strip through its Rafah border crossing with Egypt on Monday.
The convoy had travelled 7,000 kilometers but was held up in Latikia, in northwest Syria, for more than a week, awaiting Egypt's permission.
The aid convoy started its journey in the Indian capital, New Delhi. It had passed through Iran, Turkey, Lebanon and Syria to reach Egypt and finally the Gaza Strip.
The Iranian students chanted slogans against Egypt and called on the Islamic Republic to react to the effort.
The protesters also condemned Egypt's cooperation with Israel and the silence of some Muslim and Arab countries on the blockage against Gaza.
The students slammed certain Arab countries for providing Israel with an all-out support and stressed that such obstacles would not prevent the establishment of the Islamic Ummah.
The students called on the Iranian government to reconsider relations with Egypt and avoid resuming ties with Cairo.
They also protested Cairo's policy of blocking humanitarian convoys from reaching the Gaza Strip, urging the Egyptian government to cooperate with the Asian aid convoy and provide free passage into Gaza for the aid activists.
Over 1,400 Palestinians, mostly women and children, were killed and thousands of others were injured or maimed in the three-week Israeli-imposed war that started on December 28, 2008.
Half of Gaza's infrastructure was destroyed and remains unrepaired as a result of Israel's siege of the territory, includes a ban on delivery of building materials into the coastal sliver.