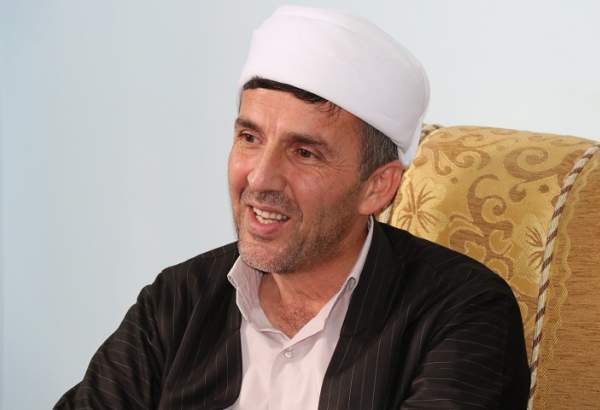 Mamusta Abdul Salam Emami, prayer leader of the Sunni community in Mahabad, in an interview with Taqrib News Agency (TNA) conducted on 31st passing anniversary of Imam Khomeini (RA) and hailed the efforts of the late leader for religious and non-religious groups both before and after the victory of Islamic Revolution.
 
He praised Imam Khomeini for the deep understanding of Palestine issue and recognition of the last Friday in the holy month of Ramadan as International Quds Day saying," Imam Khomeini (RA) was in fact the person who revived the issue of Palestine and honor of Islam."
 
Prayer leader of the Sunni community in Mahabad referred to the massive funeral ceremony attended by millions of people across the country and said," The day people bade farewell with Imam Khomeini was the day which marked the biggest funeral held for a spiritual figure in the whole history."
 
According to the Sunni scholar the deep trust, affection and compassion for the people were the three key features in late Imam Khomeini.
 
He alluded to the prominent French philosopher, Michel Foucault in his book on Imam Khomeini and Islamic revolution in Iran stressing the deep relation between a political leader and the nation.
 
"Imam Khomeini (RA) was an everlasting reality whose popularity is not restricted to Iran but Muslims and non-Muslims across the globe have set the late leader as a role model for confrontation with the oppressive powers" he concluded.