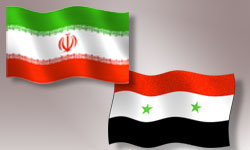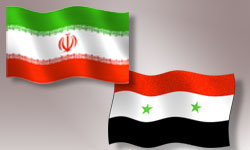 High-ranking Iranian and Syrian officials in a meeting in Tehran discussed the latest developments in Syria, and described unity and national solidarity as the only way to confront enemies' plots against the Arab country.
The issue was raised in a meeting between Iranian Foreign Minister Ali Akbar Salehi and Syrian Deputy Prime Minister Omar Ibrahim Ghalawanji on Wednesday.
During the meeting, Salehi castigated the aliens including the US for intervention and blatant support for the terrorist groups and said that insurgency hinders political and economic reform in Syria.
The Islamic Republic of Iran is committed to its pledges to support reforms ushered in by Syrian president, Salehi said.
Meanwhile, Salehi appreciated the noble stand adopted by Syrian government and its nation in supporting Palestinian resistance movement.
Recent developments in Syria proved that all predictions and assumptions made by aliens and their media hype were of no use and totally wrong, he said.
He expressed the hope that the Syrian government, nation and its army will successfully overcome current sabotage and called for stronger unity and national solidarity to thwart the terrorist threats.
Salehi said that the Syrian government must play its key role in regional and international developments.
He said that Iran is ready to continue with all-out support for Syrian people, adding that common steps must be taken to remove obstacles and hurdles mainly in the economic sector.
The Syrian deputy prime minister, for his part, thanked the Iranian people and its government for backing his country under such sensitive circumstances.
He briefed Salehi on the latest developments in Syria and the inhuman behavior of terrorist groups destroying the country's infrastructures and underlined that Syrian government is determined to defend the legitimate rights of Syrian people.
Despite of all plots hatched against Syria, the Syrian nation and government are determined to back their president and their army, he said.
Ghalawanji expressed pleasure with outcome of his talks with Iranian officials and hope to witness expansion of relations and cooperation between Tehran and Damascus.
Syria has been the scene of unrest since March 2011. Because the presence of armed groups who are supported, financed and armed by Washington, Tel Aviv, Ankara, London, Paris, Berlin and certain Arab regimes.
The US has not objected to its allies aiding rebel groups, and is rather facilitating the arms flow on the Turkey-Syria border, according to a Washington Post report in May.
The CIA's ability to operate inside Syria was hampered severely by the decision to close the US embassy in Damascus earlier this year, officials said.
The US administration is exploring ways to expand non-lethal support to Syrian opposition groups, officials told the Washington Post.
In October 2011, calm was eventually restored in the Arab state after President Assad started a reform initiative in the country, but Israel, the US and its Arab allies are seeking hard to bring the country into chaos through any possible means. Tel Aviv, Washington and some Arab capitals have been staging various plots in the hope of increasing unrests in Syria.