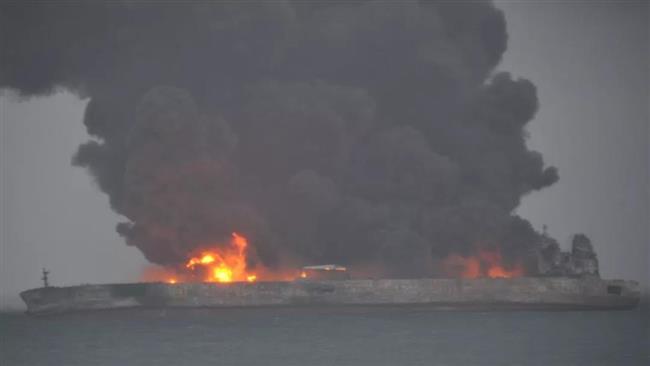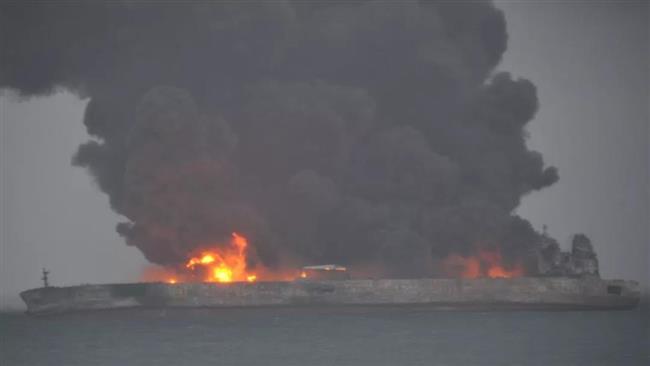 An Iranian-owned tanker has collided with a cargo ship off the eastern coast of China, leaving 32 people missing.
The collision occurred between the "Sanchi" tanker and the huge Hong Kong freighter "CF Crystal" in the East China Sea on Saturday at around 20:00 (12:00 GMT), according to reports in the Chinese media, which cited the Chinese Ministry of Transport on Sunday.
The tanker, which was carrying 136,000 tonnes of condensed oil for South Korea, "caught fire," according to the ministry's statement.
Reports said 30 Iranian and two Bangladeshi sailors went missing in the collision.
Iranian cofirmation
Meanwhile, the Islamic Republic News Agency (IRNA) later on Sunday cited an Iranian official as confirming that the tanker was Iranian but was leased by a Korean firm.
Kasra Nouri, the director of public relations at the Iranian Ministry of Petroleum, was cited by IRNA as saying that the vessel was owned by the National Iranian Tanker Company and had had its cargo loaded on behalf of the Korean firm, the Hanwha Total Petrochemical.
Nouri said most of the crew on board the tanker were Iranian but added that the Ministry of Petroleum had the details.
IRNA said that all crew members on board the tanker were said to have been killed in the incident, without providing a source.
Search and rescue operations were underway.
The Chinese Ministry of Transport said that the Chinese cargo ship with 21 sailors was carrying 64,000 tons of grain from the United States to the Guangdong Province of China and had not "not suffered damage endangering her safety" and that her crew had been rescued.
Chinese officials dispatched several maritime police vessels, two rescue boats, and three professional cleaning ships to the area, located 160 nautical miles east of the mouth of the Yangtze River.
Firefighters were also deployed to the site to help battle the flames, and the South Korean Marine Police Agency dispatched a marine police ship and a fixed-wing aircraft to help with the search and rescue operation.