Iran
Technology
Iranian Vessels to Test-Fire Mid-Range Air-Defense Missile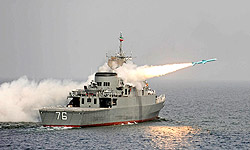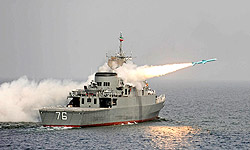 The Iranian Navy plans to test-fire a mid-range surface-to-air missile during the final days of the naval wargames in the international waters of the Sea of Oman and the Indian Ocean, a senior navy commander announced on Saturday.
Speaking to FNA, Deputy Commander of the Iranian Navy and Spokesman of the Drills Admiral Seyed Mahmoud Moussavi said that it would be for the first time that such a missile is launched from navy vessels.
Moussavi stated that the anti-air missile is an updated one, and stressed that the missile alone would "suffice to confront any aerial threats against the country's surface vessels".
The commander stated that navy will equip its other vessels with this kind of anti-aircraft missile system after it evaluates the results of the upcoming test.
Iran's naval forces started 10-day wargames, dubbed as Velayat 90, in an area stretching from the East of the Strait of Hormoz in the Persian Gulf to the Gulf of Aden last weekend.
The Iranian Navy also plans to test some newly developed advanced missiles and smart torpedoes during the ongoing naval wargames in Southern waters.