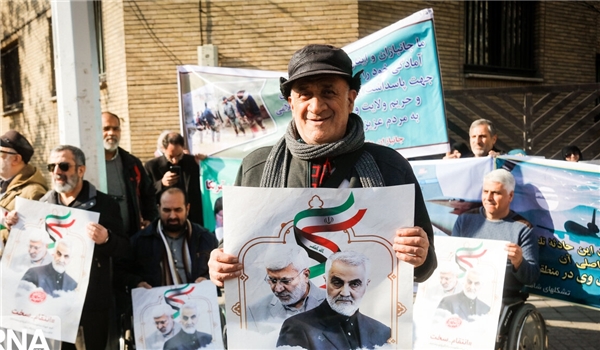 Scores of veterans from the 8-year war between Iran and the tyrannical regime of former Iraqi dictator Saddam Hussain gathered in front of the Swiss Embassy in Tehran, to condemn the US criminal act of assassinating Lieutenant General Qassem Soleimani.
A number of the Imposed War (Iraq-Iran War) veterans have gathered in front of the Swiss Embassy in Tehran, which represents the US interests, to protest the US assassination of top anti-terror commander, Lieutenant General Qasem Soleimani.
The demonstrators were holding banners to protest to the assassination of Lieutenant General Soleimani and support the Islamic Revolution Guards Corps (IRGC).
The hero of anti-terrorism fight in the region, Lieutenant General Qassem Soleimani, was brutally assassinated by the terrorist army of the US at Baghdad International Airport on January 03.
Pentagon also martyred Abu Mahdi al-Muhandis, deputy commander of Iraq's Popular Mobilization Forces (PMF), or Hashad al-Shabi, five Iranian, and five Iraqi militaries.
The strike brought the United States and Iran to the brink of war, with Tehran retaliating by launching missiles at military bases in Iraq housing American troops. On Wednesday, Iran fired more than a dozen missiles at two American military bases in Iraq in retaliation for Washington's assassination of Tehran's elite commander.
Iranian officials branded the airstrike an "act of international terrorism" and promised retaliation. Iran has time and again warned that it will not be the initiator of any war, but reserves the right to self-defense and will give a crushing response to any act of aggression by the United States.