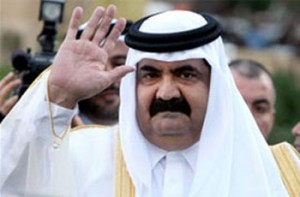 A warship and a destroyer belonging to the Iranian naval fleet have berthed at Qatar's Doha port upon an invitation by Qatari Naval officials.
Iranian Ambassador to Doha Abdullah Sohrabi and Iran's military attache in Qatar Brigadier-General Mashallah Poursheh conferred with commanders and cadets aboard the Bandar Abbas warship and Naqdi Destroyer.
Sohrabi said that the symbolic docking of the Iranian warship and destroyer at the Qatari capital is a step toward the improvement of bilateral defense ties between the two countries.
Since Iran and Qatar are neighbors and have common sea borders, issues such as defense cooperation and security of waterways are of paramount importance, he added.
Sohrabi also highlighted the strategic, political and economic importance of the Persian Gulf and the Strait of Hormuz.
The Iranian envoy expressed hope that during the upcoming visit of Iran's Defense Minister Ahmad Vahidi to Qatar and the following up of the bilateral agreements, the bilateral relations between Tehran and Doha would improve in all defense and military areas.
Earlier, Qatari Emir Sheikh Hamad bin Khalifa al-Thani in a meeting with Iran's presidential advisor, Esfandiar Rahim Mashaei had voiced his country's opposition to anti-Iran provocations by Western countries.
Rahim Mashaei visited Qatar last week and met with a number of Qatari officials, including Qatari Emir Hamad bin Khalifa al-Thani.